This vegan quinoa fried "rice" is a healthier twist on a takeout favorite! Ready in under 30 minutes and packed with plant-based protein, this dish is an easy dinner recipe that will satisfy both vegans and meat-eaters.
Servings: 4
Serving Size: 1 1/2 cups (217 grams)
Prep Time: 15 minutes
Total Time: 30 minutes
Nutrition Facts: 264 calories / 26g carbs / 16.5g protein / 10.5g fat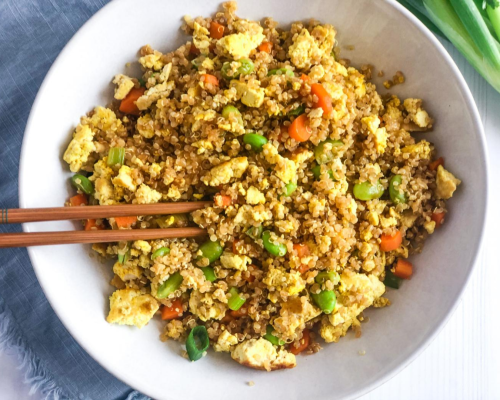 Ingredients:
1 tablespoon (14g) avocado oil or other high-heat cooking oil (divided)
1 14-ounce package (397g) Nasoya firm tofu (drained)
1/4 teaspoon ground turmeric
3 tablespoons (63g) Kikkoman low-sodium soy sauce (divided)
3 scallions (45g) chopped, white and green ends separated
1 large (84g) carrot (peeled and diced)
1/2 cup (75g) frozen shelled edamame
2 cups cooked (370g) Ancient Harvest Traditional Quinoa
1 teaspoon (5g) rice vinegar (no sugar added)
1/2 teaspoon freshly grated ginger
Salt and pepper to taste
Instructions:
In a large skillet over medium-high heat, add 1/2 tablespoon of avocado oil. Once the oil is hot, use your fingers to crumble the tofu into the pan. Add it to the pan, spread the tofu in an even layer, and allow it to cook undisturbed for 3 minutes. Flip, and cook for another 3 minutes. Add the turmeric powder and stir to coat. Transfer the tofu to a bowl and set aside.
Add the remaining 1/2 tablespoon of avocado oil into the pan. Add the white ends of the scallions, diced carrot, and shelled edamame. Cook for 4 minutes, or until the scallions and carrots have softened and the edamame is warmed through.
Add in the cooked quinoa, rice vinegar, grated ginger, remaining soy sauce, and scrambled tofu. Stir well to combine and reduce heat to medium-low. Cook for 5 minutes, or until the entire dish is warmed through. Taste and add salt or pepper as needed.
Garnish with green ends of the scallions and serve immediately.
Notes:
Leftovers are best stored in an airtight container in the fridge for up to 5 days. To reheat, add 1 tablespoon of water to each individual portion and microwave on high for 1 to 2 minutes.
To help the tofu better soak up the flavors of the soy sauce and turmeric, it's best to press the tofu for at least 10 minutes before cooking. To do this, place the drained tofu block on a plate and wrap the tofu in a clean paper towel. Place a heavy object on top of the tofu to press.
For a more authentic texture, I recommend cooking your quinoa the day before or a few hours before making this fried rice.
To cook the quinoa, simply place 2/3 cup (120 grams) of rinsed, uncooked quinoa in a medium-sized pot. Add 1 1/3 cups of water or low-sodium vegetable broth into the pot and bring to a boil over high heat. Once boiling, cover and reduce the heat to low. Simmer for 15 minutes, or until all of the liquid has been absorbed.
To make this recipe gluten-free, use certified gluten-free tamari or coconut aminos.