Pack in the fall flavors with this savory crustless quiche. It's the perfect make-ahead breakfast or easy weeknight dinner that you can enjoy all week.
Servings: 6
Serving Size: ⅙ of quiche (110g)
Prep Time: 20 minutes
Total Time: 50 minutes
Nutrition Facts: 116 calories / 8.5g carbs / 11.5g protein / 4g fat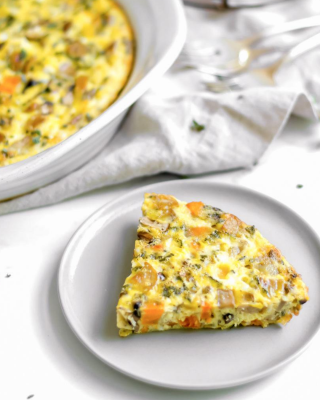 Ingredients:
1 cup (133g) sweet potato (peeled and diced into ½ inch cubes)
2 cups (130g) raw crimini or baby bella mushrooms (diced into 1-inch pieces)
½ cup diced yellow onion (60g)
1 link (78g) "Al Fresco" sweet Italian chicken sausage (diced)
4 large (200g) eggs
4 egg whites (132g) from large eggs
½ cup (98g) plain nonfat Greek yogurt
1 tablespoon fresh sage, minced
1 teaspoon fresh thyme, minced
¼ teaspoon salt
Instructions:
Preheat the oven to 350 F. Heat medium to large saute pan over medium heat. Spray with nonstick cooking spray. Add the sweet potato and cook for 5-7 minutes, or until it begins to soften.
Add onion and mushroom and saute for another 3 minutes. Add chicken sausage and saute for 1 more minute, just to mix all of the flavors.
Meanwhile, whisk together eggs, egg whites, Greek yogurt, herbs, and salt in a large bowl. Once vegetables are ready, add them to the egg mixture.
Spray a 10-inch pie dish with nonstick cooking spray. Add the egg, vegetable, and chicken sausage mixture to the baking dish. Bake for 25-30 minutes until the top is set. Slice into 6 slices.
Notes:
We recommend using a non-stick saute pan to saute the vegetables so they don't stick. If you don't have one, you may need more olive oil or nonstick cooking spray (those macros would be additional).
Herbs are optional but do add a nice flavor.