Taco Lentil Soup: 50% chili, 50% taco, 100% delicious! Whether you're a vegetarian or meat-lover, this soul-warming soup is for you. Veggies, beans, lentils, cumin, and chili powder add tons of flavor and texture to this easy 2-step soup. Along with 16 grams of plant-based protein per serving!
Servings: 6
Serving Size: 1 ½ cups (355g)
Prep Time: 10 minutes
Total Time: 55 minutes
Nutrition Facts:  286 calories / 49.5g carbs / 16g protein / 3.5g fat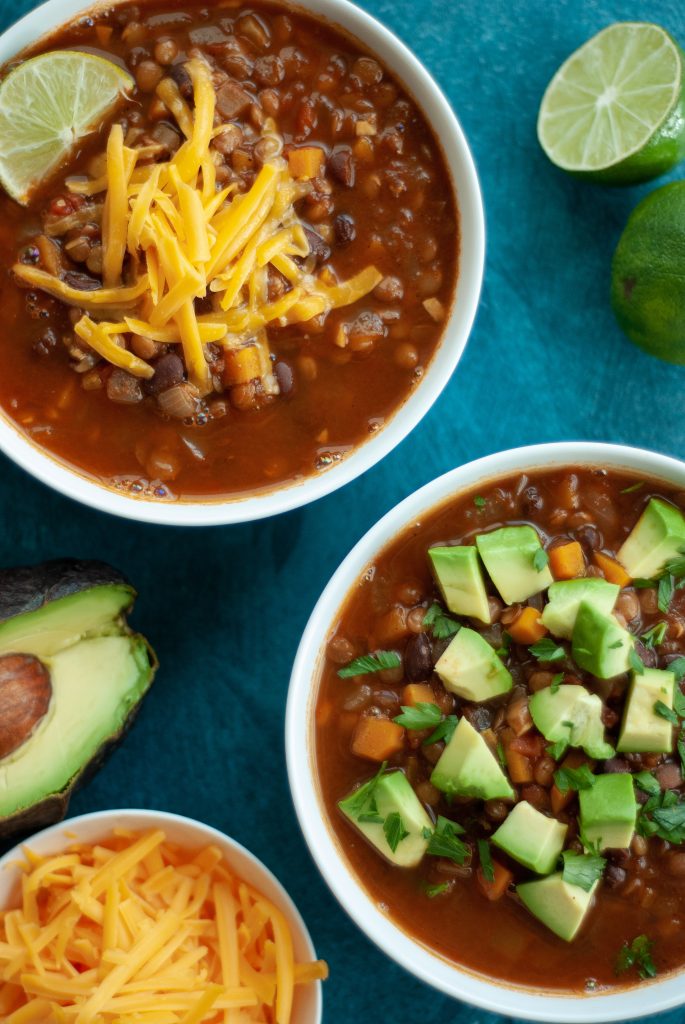 Ingredients:
1 tablespoon (14g) olive oil
1 small (128g) yellow onion (diced)
3 whole (138g) carrots (peeled and finely diced)
3 garlic cloves (minced)
1 28-oz can (794g) crushed tomatoes
1 15-oz can (425g) black beans (rinsed and drained)
4 cups (880g) vegetable broth
1 cup (192g) dry green or brown lentils
2 tablespoons ground cumin
1 tablespoon chili powder
1 teaspoon dried oregano
½ teaspoon salt
Instructions:
Heat oil in a large soup pot over medium heat. Add the diced onion, carrots, and garlic to the pot and sauté for 5-7 minutes until softened.
Add the remaining ingredients and bring to a boil. Cover, reduce heat to low, and simmer for 45-60 minutes.
Garnish with fresh cilantro, avocado, shredded cheese/cheese substitute, or tortilla chips (macros not included.)
Notes:
If you're not vegetarian or vegan feel free to use fat-free chicken broth instead of the vegetable broth (the macros will remain the same.)
Slow cooker instructions: place all ingredients in a slow cooker and cook on high for 2-3 hours or on low for 5-6 hours.
---
Some of the links above are affiliate links, which may earn Macrostax a commission at no extra cost to you.