Most people know Georganne Moline as the Olympic hurdler with a million dollar smile. And while she is best known for dominating the track with agility and speed, her fans might be surprised to know she's got another talent; Georganne can recite the alphabet backward in less than three seconds. (How's that for a blistering pace?)
But beneath her upbeat exterior lies some serious grit. Georganne's accomplishments include placing fifth in the 2012 Olympic final as the youngest athlete in the field and being part of the 4×400 relay team (without hurdles), that won gold and broke the American record at the 2018 World Championships.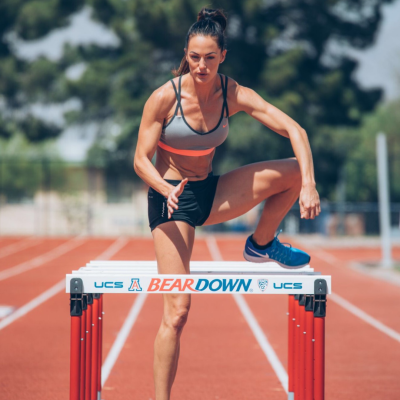 Despite her remarkable athletic resume, the 28-year-old pro athlete's greatest pride comes not from her physical strength but from her mental prowess. "Throughout my college and professional years of being a hurdler, I have dealt with injuries and mental barriers that were harder to bear than any workout my coach could give me," says Georganne. After competing in the 2012 Olympic games as a junior at the University of Arizona, Georganne returned for her senior year with big credentials… and a lot of pressure. When she didn't meet the high expectations she placed on herself, Georganne questioned not just her abilities as an athlete—but her entire sense of self-worth as a person.
Georganne struggled for years until meeting Dr. Athey, the sports psychologist she credits with giving her the tools to manage her self-doubt and to be her best, both on and off the track. "With her, I learned to manage distractions in my head, opinions of other people, and outcome based situations. Surrounding myself with people who love me for who I am and not what I do, was the ultimate medicine."
Now that she's conquered her mental blocks and rehabbed a herniated disc that was diagnosed in 2016, Georganne is focused on the World Championships in Doha, Qatar in October 2019. Her goal is to win and she's working for it every single day. That means focusing on the little things, which Georganne knows, over time, add up to big gains. The self-professed night owl sleeps at least eight and a half hours every night and naps 30-90 minutes daily. Between her twice-a-day training sessions, she recovers through modalities including massage, Theragun, PowerDot, stretching, and rolling out.
And of course, there's the not-so-small detail of nutrition, which is where Macrostax comes in. Georganne admits to having a been a picky eater as a kid, only starting to understand the importance of nutrition and its role in healing when she was injured several times during her college career. Until she started Macrostax, she felt mystified as to why she'd show up to her 9 am practice feeling wiped after sleeping nine hours and drinking a cup of coffee. "Macrostax really opened my eyes to my lack of carbohydrates in my diet and a deficiency of protein after workouts."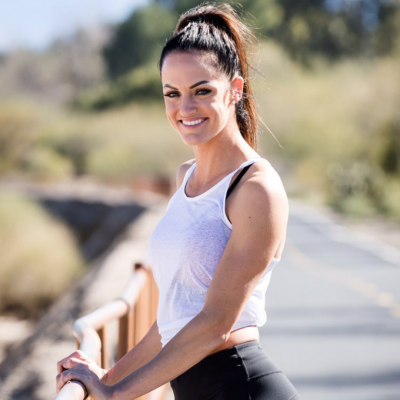 Once Georganne started Macrostax, she felt significantly better within a few days, finding herself in a better mood and seeing performance gains on the track and in the weight room. Georganne feels that taking the guesswork out of her nutrition is going to be a game changer as she prepares for Worlds. "I know that I am fueling and recovering my body the most efficient way and I trust in the longevity of my body because of Macrostax!"
One of the best parts of Macrostax? Georganne still gets to eat her favorite meal of the day, breakfast. She starts her day with two eggs with toast and butter, along with Greek yogurt, granola, berries, topped with a drizzle of honey. Georganne loves breakfast so much, she often finds herself eating it for dinner. Now that's she using Macrostax, her dinner options include the "decadent, guilt-free" macro-friendly pancakes she's recently discovered.
It's not just consistent habits and nutrition that feed Georgann's success, it's also her supportive community. That includes the women she trains with at the University of Arizona, her coach, her friends, and most importantly, her mom, who has been a source of motivation from the beginning. Georganne's mom made her do a sport every season when she was growing up, and when she started high school, Georganne chose track. Right away, her coach noticed she was tall and told her she'd be a hurdler. Two weeks in, falling over the hurdles and desperate to quit the team, her mom said she had to follow through on her commitment and finish the season.
Fourteen years later, Georganne is at the top of her sport and her mom continues to challenge her to be her best. Says Georganne, "As a single mother, she has worked so hard to not only give me a life she dreamed of but she always reminds me that I am capable of greatness… She is the reason I have never put a cap on what I could do."
Though her mom and her supportive community help fuel her passion to give her best on the track every single day, Georganne is quick to point out, she'll never attain perfection—and she's perfectly okay with that. Despite her extraordinary 14-year career in the sport, she acknowledges she is still learning. "The hurdles are so technical and even though there is no such thing as perfect, we chase perfection with hopes that we will get close." It's this reaching toward an unreachable horizon that adds fuel to Georganne's fire for the sport. "I love that perfect doesn't exist because then what would we do after reaching it?"
---
Some of the links above are affiliate links, which may earn Macrostax a commission at no extra cost to you.