What's not to love about 5 ingredient 20 minute meals?? Nothing, because they're the best! Our 5 Ingredient Honey Chicken uses just five simple ingredients (that you probably have in your pantry right now). All it takes is a few minutes to get a sweeeet meal on the table!
Servings: 4
Serving Size: 3.75oz (105g) cooked chicken
Prep Time: 5 minutes
Total Time: 20 minutes
Nutrition Facts: 244 calories / 18.5g carbs / 27g protein / 6.5g fat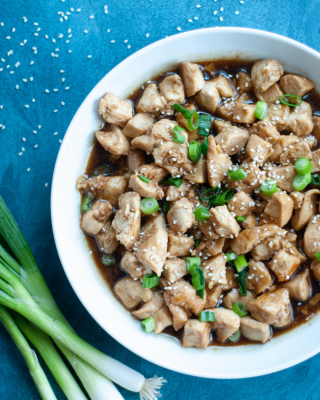 Ingredients:
¼ cup (85g) honey
3 tablespoons (51g) soy sauce (use Tamari soy sauce if gluten-free)
2 garlic cloves (6g) (diced)
1 tablespoon (14g) olive or avocado oil
1 lb (453g) chicken breasts (cut into bite-sized pieces)
Optional garnishes: green onion, sesame seeds, red pepper flakes
Instructions:
Whisk the honey, soy sauce, and garlic together in a small bowl or measuring cup.
Heat oil in skillet over high heat. Add diced chicken to the pan and sear (without turning) for about 5 minutes until the underside is golden brown. Toss, and continue cooking for another 2-3 minutes.
Add the sauce to the pan along and stir to combine. Continue cooking for another 2-3 minutes or until the chicken is just cooked through and the sauce is slightly thickened.
Serve over rice, quinoa, or cauliflower rice. Garnish with green onions, sesame seeds, and/or red pepper flakes if desired.
Notes:
For a lower sodium meal use low sodium soy sauce. The macros will remain the same.