These Tuna Ranch Pita Pockets are stuffed to the brim with tangy Ranch, zesty tuna, and crisp lettuce. In other words, this is our kinda snack!! It's hard to beat almost 20 grams of protein tucked inside a portable pita.
Servings: 1
Prep Time: 5 minutes
Nutrition Facts: 183 calories / 22g carbs / 17.5g protein / 3g fat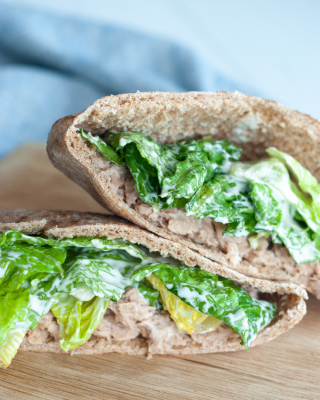 Ingredients:
½ "Thomas" whole wheat pita bread (29g)
1 pouch (74g) "Starkist Creations" Ranch
1 cup (47g) chopped Romaine lettuce
1 tablespoon (30g) "Hidden Valley" fat free Ranch dressing
Instructions:
In a small bowl toss the Ranch dressing with the lettuce.
Fill the pita half with the tuna and then stuff with the lettuce mix. Or, you can mix the tuna and lettuce together and then stuff your pita. Whatever floats your boat!
Notes:
Optional (low macro) add-ins are sliced cucumber, sprouts, tomato, or sliced bell peppers.
If you don't have pita bread on hand, try substituting a small tortilla or slice of bread.