Popsicles: the quintessential summer treat and the perfect antidote to hot July days! This year get in the 4th of July spirit with red, white, and blue Patriotic Popsicles. We're transforming four simple ingredients – raspberries, blueberries, honey, and Greek yogurt – into sweet, tart, and refreshingly cold homemade popsicles. It's easier than you'd think. Jump in!
Makes: 6 popsicles
Serving Size: 1 popsicle
Prep Time: 10 minutes
Total Time: 6-8 hours
Nutrition Facts: 103 calories / 19g carbs / 4g protein / 2g fat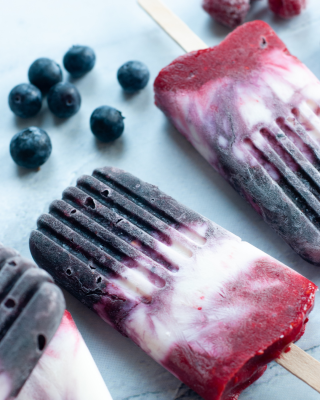 Ingredients:
1 ½ cups (233g) fresh or frozen (and defrosted) blueberries
1 ½ cups (375g) fresh or frozen (and defrosted) raspberries
1 tablespoon (21g) honey
1 cup (227g) nonfat vanilla Greek yogurt (we used "Chobani")
Extra equipment:
Instructions:
Using a blender or food processor puree the blueberries along with 1-2 tablespoons of water. Set aside.
Puree the raspberries and honey together until smooth.
Divide the raspberry puree evenly among the 6 popsicle molds (about 2 tablespoons per mold).
Spoon the Greek yogurt on top the raspberry puree, adding 2 tablespoons per mold.
Lastly, gently spoon the blueberry puree on top of the Greek yogurt, dividing evenly among the 6 molds (about 2 tablespoons per mold).
Don't worry if the layers mix slightly. You can also swirl the layers together using a knife or skewer for a more marbled look.
Freeze for about 2 hours, gently stick a popsicle stick in each popsicle, and then freeze at least 6 hours or overnight until firm.
Hold the popsicles under warm running water for 5-10 seconds to help release the popsicles from their molds. Enjoy immediately or freeze in a zip-top freezer safe bag.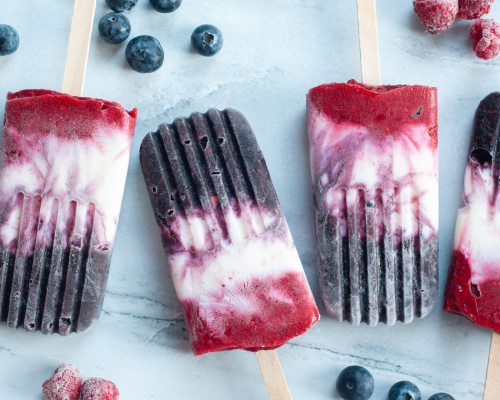 Notes:
You can buy popsicle molds on Amazon for under $15.
---
Some of the links above are affiliate links, which may earn Macrostax a commission at no extra cost to you.