Searching for a new lunch or dinner meal prep recipe? Look no further! We're all about these Greek Chicken Meal Prep Bowls with oregano chicken, rice, and a citrusy cucumber tomato salad. This light meal is perfect for summer and comes together in less than 30 minutes!
Servings: 6
Serving Size: 1 bowl
Prep Time: 20 minutes
Total Time: 20 minutes
Nutrition Facts: 367 calories / 42g carbs / 30g protein / 8g fat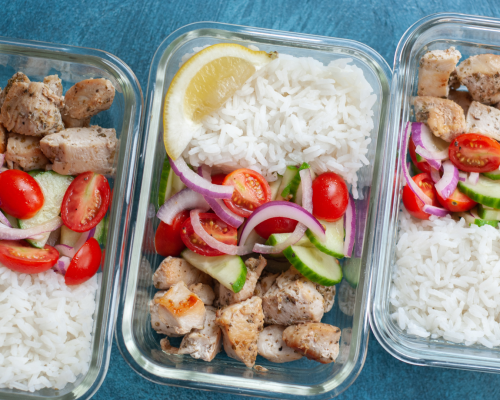 Ingredients:
For the chicken:
1 tablespoon (14g) olive oil
1 ½ lb (680g) chicken breast
2 teaspoons dried oregano
¼ teaspoon salt
For the cucumber tomato salad:
1 pint (329g) cherry tomatoes (halved)
½ medium cucumber (101g) (sliced)
½ small red onion (30g) (thinly sliced)
2 tablespoons (30g) lemon juice
1 tablespoon (14g) olive oil
¼ teaspoon salt
Pepper
Toppings:
5 cups (790g) cooked white rice
1 lemon, cut into wedges
Instructions:
Dice chicken breasts into bite-sized pieces. Sprinkle evenly with the oregano and salt.
Heat olive oil in skillet over medium heat. When hot, add the chicken to the pan and cook for about 5 minutes. When the undersides are golden brown, flip the pieces and cook for another 2-3 minutes or until just cooked through. Remove the chicken from the pan.
In a medium bowl mix together all the cucumber and tomato salad ingredients.
Assemble each serving by arranging 3 ounces of cooked chicken and just over ¾ cup (130g) of rice in each of 6 bowls or meal prep containers. Evenly divide the cucumber and tomato salad between the 6 servings.
Garnish with lemon wedges.
Notes:
Other delicious garnishes are fresh parsley or mint, fat-free Greek yogurt, or crumbled feta cheese (macros not included.)
Time saver tip: use instant or pre-cooked rice. Feel free to substitute brown rice for white rice, the macros are the same.
This is a great make-ahead meal. Leftovers keep well in the refrigerator for 3-5 days.