PSA: we discovered a syrup substitute SO GOOD you'll never look back. Imagine a peanut butter topping made with vanilla Greek yogurt and powdered peanut butter, with vanilla buttermilk protein waffles and fresh berries. (drool face) These Berry Protein Waffles are one of our favorite 5 minute meals to date!
Servings: 1
Prep Time: 5 minutes
Nutrition Facts: 325 calories / 39g carbs / 21.5g protein / 12.5g fat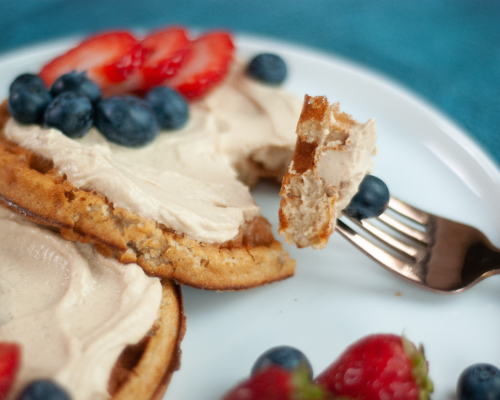 Ingredients:
⅓ cup (50g) "Dannon Light and Fit" vanilla Greek yogurt
2 tablespoons (12g) "PB2" powdered peanut butter
2 "Kodiak Cakes" buttermilk and vanilla power waffles (76g)
¼ cup (41g) mixed berries (fresh or frozen)
Instructions:
Mix Greek yogurt and powdered peanut butter together in a small bowl. Prepare waffles per package directions. If using frozen berries, defrost at room temperature or in the microwave.
Top waffles with the peanut butter spread and berries. Sprinkle with extra cinnamon if desired. Enjoy open-faced or as a sandwich.
Notes:
You can also use plain non-fat Greek yogurt for the topping. The macros are: 38g carbs / 24.5g protein / 12.5g fat / 335 calories.