Shrimp? Check. Noodles? Check. No prep veggies? Double check. This 5 Ingredient Shrimp Stir-Fry might just become your new weeknight family favorite dinner! It's ready in 15 minutes and uses fuss-free, simple ingredients so you can spend your night outside of the Kitchen
Servings: 4
Serving Size: 1 ¾ cups (330g)
Prep Time: 15 minutes
Nutrition Facts: 401 calories / 48.5g carbs / 32.5g protein / 7.5g fat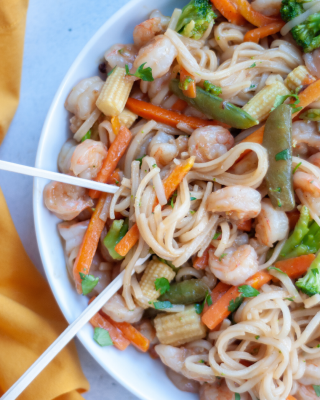 Ingredients:
3 teaspoons canola oil
1 ¼ lb raw shrimp (peeled and deveined, tail off)
1 10-oz package "Bird's Eye" frozen Asian medley vegetables
6 oz "Thai Kitchen" stir-fry rice noodles
½ cup "Kikkoman" stir-fry sauce
Instructions:
Prepare the noodles per package instructions.
Heat 1 teaspoon of oil in a large skillet over high heat. Add the shrimp to the pan. Sauté for 3-4 minutes or until pink but not overcooked. Set aside.
Heat the remaining 2 teaspoons of oil in the same skillet over high heat. Add the frozen vegetables directly to the pan.
Sauté for 3-4 minutes until the veggies are crisp-tender and warmed through.
Add the cooked and drained noodles, shrimp, and stir fry sauce to the veggies and toss well to combine. Sauté over high heat for 1-2 minutes until heated through and fragrant.
Notes:
You can substitute any protein for the shrimp (tofu, beef, pork, or chicken). Macros will vary.
You can usually find stir-fry sauce and stir-fry noodles in the ethnic aisle of most grocery stores.
Time saver tip: buy pre-cooked shrimp.