A 5 minute high protein meal that does triple duty as breakfast, lunch, OR a snack?? Dreams do come true! In the form of Avocado Toast with Smoked Salmon. We're topping a slice of whole wheat bread with creamy avocado, salty smoked Sockeye salmon, and our favorite crunchy garnishes for a quick, healthy meal that checks all the boxes.
Servings: 1
Prep Time: 5 minutes
Nutrition Facts: 279 calories / 20.5g carbs / 28g protein / 10.5g fat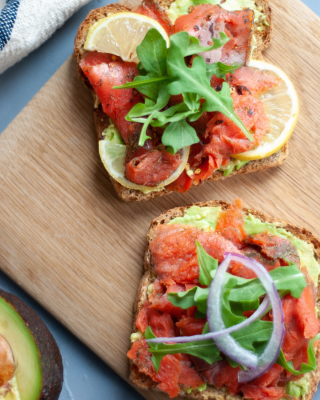 Ingredients:
1 slice (34g) "Ezekiel" sprouted whole grain bread
⅓ avocado (45g)
3 ounces (85g) smoked sockeye salmon
Freshly ground salt and pepper
Optional garnishes: microgreens, arugula, spinach, sesame seeds, lemon wedge, red pepper flakes, thinly sliced red onions, or capers (macros not included)
Instructions:
Toast bread.
Spread with avocado. Season generously with salt and pepper.
Top with smoked salmon and any desired optional garnishes (listed above).
Notes:
We found that the macros for most brands of smoked sockeye salmon (such as "Trident", "Blue Hill Bay", and "Trader Joe's") were very similar, within a few grams of each other. Feel free to use any brand that is available to you.