Helloooo healthy! This vegan Butternut Squash and Farro Salad is everything we love about a weekday lunch! This salad is packed with greens and grains – farro (a grain similar to barley) and arugula are dressed up with caramelized butternut squash, pumpkin seeds, and a tangy cider vinaigrette. Top with goat cheese or your favorite protein for a fun variation!
Servings: 6
Serving Size: 1 cup (140g)
Prep Time: 15 minutes
Total Time: 45 minutes
Nutrition Facts: 279 calories / 42g carbs / 9g protein / 10.5g fat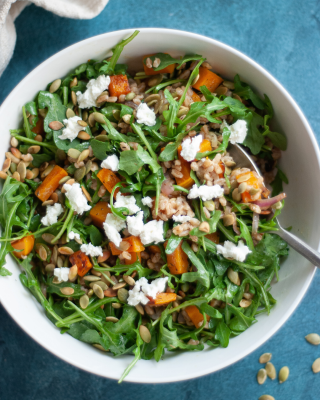 Ingredients:
Salad:
3 cups (454g) raw butternut squash (peeled and diced into ½-inch pieces)
1 cup (210g) thinly sliced red onion (about ½ medium onion)
1 tablespoon olive oil
1 teaspoon dried thyme or rosemary
2 ½ cups (250g) cooked farro (we used quick cooking)
3 cups (60g) arugula or baby spinach
¼ cup (30g) raw pumpkin seeds (pepitas)
Dressing:
2 tablespoons olive oil
1 tablespoon apple cider vinegar
1 tablespoon (16g) Dijon mustard
¼ teaspoon salt
Fresh ground pepper
Instructions:
Preheat the oven to 375 degrees and line a baking sheet with foil or spray with nonstick cooking spray.
Toss the cubed butternut squash, red onion, olive oil, dried herbs, and a generous sprinkle of salt together in a large bowl. Spread evenly over the prepared baking sheet. Roast for 30-35 minutes or until the squash is tender.
Toast the pumpkin seeds in a small skillet over medium heat for 3-5 minutes. They are done when fragrant, lightly golden, and start to make a popping sound.
Whisk the dressing ingredients together.
Assemble the salad by mixing together the roasted squash and onions, cooked farro, and greens. Top with the toasted pumpkin seeds and dressing.
Notes:
You can find farro in most grocery stores in the aisle with rice and beans, or in the bulk section.
For extra flavor, cook the farro in fat free chicken broth or vegetable broth instead of water (macros will remain the same.)
Crumbled goat cheese (macros not included here) make a delicious topping for this salad!
To make this a higher protein meal add 3 oz of cooked chicken breast to each 1 cup serving. Macros per serving: 42C/34P/13.5F, 405 calories.
---
Some of the links above are affiliate links, which may earn Macrostax a commission at no extra cost to you.