These Parmesan and panko-crusted zucchini fries are crispy, flavorful, and require just a few ingredients to make.
Servings: 5 servings (30 zucchini fries total)
Serving Size: 6 zucchini fries (96g)
Prep Time: 15 minutes
Total Time: 23 minutes
Nutrition Facts: 151 calories / 23g carbs/ 8.5g protein/ 3.5g fat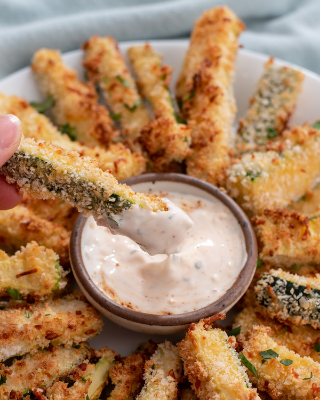 Ingredients:
2 medium (434g) zucchini
1 cup (60g) panko breadcrumbs
1/4 cup (25g) shredded Parmesan cheese
1/2 cup (62g) flour
1 teaspoon salt-free Cajun seasoning
1/4 teaspoon salt
2 large (100g) eggs
Instructions:
Slice ends off of each zucchini. Cut each zucchini in half lengthwise. Cut each half into long 1/2-inch wide strips. They should be shaped like fries.
Add panko breadcrumbs and Parmesan cheese to a medium bowl. Whisk to combine. In another bowl, whisk together all-purpose flour, Cajun seasoning, and salt. Whisk the eggs in a third bowl.
Using one hand for dry ingredients and the other for wet, dip a zucchini fry into the all-purpose flour. Turn to coat. Dip the fry into the whisked egg. Shake to remove excess egg. Add to the panko mixture, tossing to combine.
Place the zucchini fry on an air fryer rack prepped with nonstick cooking spray. Repeat the process with the remaining zucchini slices.
You may need to air fry in 2-3 batches. Air fry at 375 degrees F for 7-9 minutes, until golden. Enjoy immediately. Please see notes for baking directions.
Notes:
No air fryer? These fries can be baked in a conventional oven at 425 degrees F. Simply line a baking sheet with parchment paper or foil and lightly coat in nonstick cooking spray. Spread evenly and bake for 8-10 minutes, then flip fries and bake for another 8-10 minutes until crispy.
This recipe can be made gluten-free using a gluten-free all-purpose flour blend and gluten-free Panko breadcrumbs.