These plant-based baked pancakes are full of pumpkin, cinnamon spice, and all things nice! This recipe checks the "easy" box, it only takes 30 minutes from start to finish with no pancake flipping required. Whip up a batch, load 'em up with your favorite toppings, and breakfast is served!
Servings: 4
Serving Size: 2 squares
Prep Time: 10 minutes
Total Time: 25 minutes
Nutrition Facts: 244 calories / 31.5g carbs / 10g protein / 8.5g fat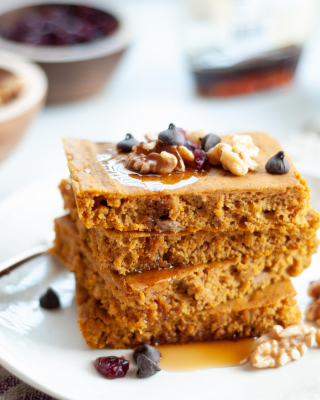 Ingredients:
1 cup (240g) unsweetened almond milk
⅓ cup (81g) packed pure pumpkin puree
2 tablespoons (27g) melted coconut oil
2 tablespoons (15g) packed brown sugar
1 teaspoon vanilla extract
1 teaspoon vinegar (white or apple cider)
1 cup (125g) flour
1 scoop (36g) Optimum Nutrition Gold Standard 100% Plant vanilla protein powder
1 teaspoon baking powder
1 teaspoon baking soda
¼ teaspoon salt
1 teaspoon pumpkin pie spice
Instructions:
Preheat oven to 350 degrees. Grease a 9×13-inch baking dish by spraying well with nonstick cooking spray.
Mix together the wet ingredients (almond milk, pumpkin, coconut oil, brown sugar, vanilla, and vinegar) in a large mixing bowl or stand mixer.
In a smaller bowl stir together the flour, protein powder, baking powder, baking soda, salt, and pumpkin pie spice. Mix with a fork, making sure to break up any clumps of protein powder.
Add the dry ingredients into the wet ingredients, stirring with a fork or spatula until combined. The batter will be thick and lumpy, do not overmix.
Pour the batter into the prepared baking dish. Spread evenly with a spatula into a thin, even layer.
Bake for 10-12 minutes or until a toothpick inserted into the center just comes out clean. Remove from the oven and cool on a wire rack.
Slice into 8 squares. Enjoy with your favorite pancake toppings such as maple syrup, nut butter, or fruit (macros not included.)
Notes:
Store extra pancakes in the refrigerator for up to 5 days or in the freezer for up to 3 months.
If you decide to use Optimum Nutrition products you can use code "MACROSTAX" for 20% off your purchase!
---
Some of the links above are affiliate links, which may earn Macrostax a commission at no extra cost to you.