These BBQ pulled pork sandwiches are perfect for busy weekdays. Set in the crockpot in the morning and dinner is waiting for you when you get home. A mix of sweet and savory, these sandwiches will satisfy all!
Servings: 4 sandwiches
Serving Size: 1 cup (181g) pulled pork with 1 bun
Prep Time: 10 minutes
Total Time: 4 hours 40 minutes
Nutrition Facts: 356 calories / 41g carbs / 29.5g protein / 8.5g fat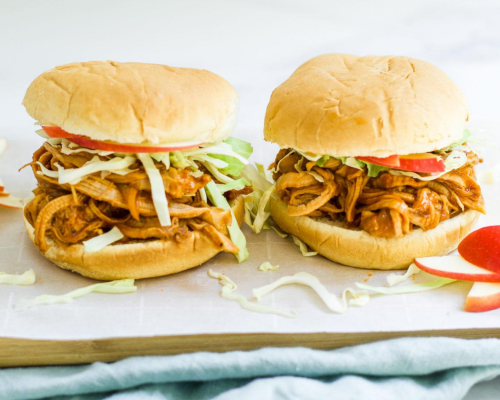 Ingredients:
1 tablespoon (14g) olive oil
1 lb (453g) lean boneless pork tenderloin
2 cups (144g) thinly sliced onion
1 cup (100g) thinly sliced apple
1 cup (264g) Stubbs original BBQ sauce
4 "Pepperidge Farm" whole wheat hamburger buns (204g)
Optional toppings: additional apple slices, shredded green or red cabbage (macros not included)
Instructions:
Heat olive oil in a pan on medium high heat. Sear the pork tenderloin until lightly browned on each side (approximately 3 minutes per side).
Add all ingredients to a slow cooker. Cover and cook on high for 4 ½ hours or low for 8 hours.
When done cooking, shred pork with 2 forks. Season with salt and pepper to taste.
Serve on a bun with optional toppings of sliced cabbage and apple (macros not included).
Notes:
You can easily make pulled pork sliders by pairing this pulled pork with smaller buns.
Multiply this recipe x2 or x3 to feed a crowd. The pulled pork freezes well!
Store in the fridge for up to 3 days. Reheat in the microwave or in a saute pan on the stove.