Love cheeseburgers? This gooey casserole takes all the classic cheeseburger flavors that you love and incorporates them into a baked pasta casserole. Made with lean ground beef and reduced fat cheese, this recipe is the perfect healthier option for the whole family!
Servings: 8
Serving Size: 1 ⅓ cup (269g)
Prep Time: 10 minutes
Total Time: 40 minutes
Nutrition Facts: 372 calories / 38g carbs / 23.5g protein / 14.5g fat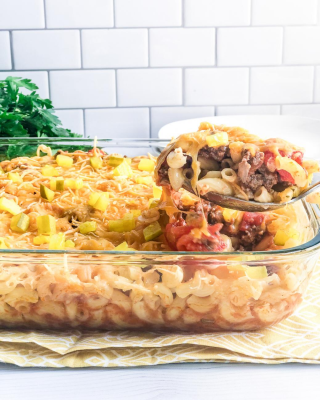 Ingredients:
12-ounces (340g) uncooked elbow macaroni noodles
2 teaspoons (9g) olive oil
1/2 small (60g) sweet onion, diced
1 garlic clove (5g) minced
1 pound (453g) 95% lean ground beef
3/4 teaspoon salt
1/2 teaspoon ground black pepper
2 tablespoons (30g) tomato paste
2 (14.5-ounce) cans (822g) diced tomatoes
2 tablespoons (30g) Dijon mustard
1 3/4 cups (198g) "Kraft" 2% shredded cheddar cheese
1/4 cup (46g) chopped "Vlasic" dill pickles
Instructions:
Preheat the oven to 350oF and set out a 9 x 13-inch baking dish.
Fill a large pot with water and bring to a boil over high heat. Once boiling, add the pasta and cook for 6 minutes, or per package directions for al dente. Once cooked, carefully pour pasta into a colander to drain and then return the pasta to the pot.
While pasta is cooking, place a large skillet over medium-high heat and add olive oil. Once the oil is hot, add the onions and cook until soft, about 5 minutes. Add in the garlic and cook for another 30 seconds, or until fragrant.
Stir the ground beef into the pan and season with salt and pepper. Cook until browned, about 5-6 minutes.
Add the tomato paste and stir until well combined. Next, add in the diced tomatoes and mustard. Cook for 2 minutes, or until the mixture is bubbling and slightly thickened.
Pour the meat mixture into the pot with the noodles and stir well to combine.
Transfer the mixture into the prepared baking dish and top with the cheddar cheese. Bake for 15 minutes, or until the cheese is melted. Sprinkle the chopped pickles on top and serve.
Notes:
Store leftovers in an airtight container for 3-4 days in the fridge. You can also freeze the cooked casserole, or individual servings, for up to 3 months.
Make this recipe gluten-free by using gluten-free elbow noodles instead.
To prep this casserole ahead of time, follow steps 2 through 6. Place the noodle and hamburger mixture in your casserole dish and allow to cool to room temperature. Cover the dish with a lid or plastic wrap and place it in the fridge overnight. To cook, simply preheat the oven, letting the casserole sit out at room temperature while the oven preheats. Cook for 30 minutes, or until warmed through and the cheese is melted.
---
Some of the links above are affiliate links, which may earn Macrostax a commission at no extra cost to you.