This stuffing is packed with the beautiful flavors of fall and is the perfect side for your Thanksgiving table! It's full of healthy seasonal ingredients and is the perfect complement to a holiday meal.
Servings: 8
Serving Size: 1 cup (154g)
Prep Time: 15 minutes
Total Time: 40 minutes
Nutrition Facts: 148 calories / 30g carbs / 5.5g protein / 1g fat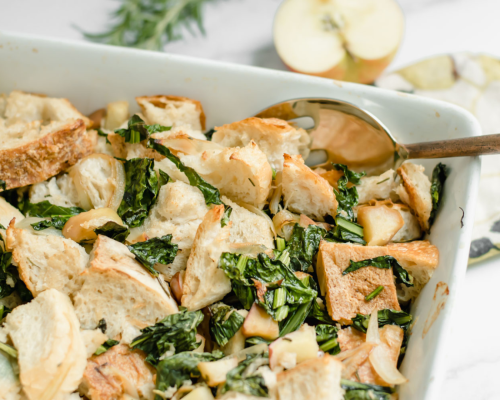 Ingredients:
1 teaspoon (5g) olive oil
1 cup (137g) yellow onion (diced)
1 ½ cups (195g) apple (diced with peel on, about 1 medium apple)
1 tablespoon fresh rosemary (minced)
1 tablespoon fresh sage (minced)
¼ teaspoon salt
3 packed cups (150g) lacinato kale, roughly chopped with stems left on
2 cups (440g) vegetable broth (divided)
2 egg whites (66g)
1 pound (453g) "San Luis" sourdough bread (roughly chopped into 1 inch pieces)
Instructions:
Preheat oven to 375F. Prepare a 9×13-inch baking dish by spraying with nonstick cooking spray.
Heat oil in a large non-stick pan over medium heat. Add onion and saute, stirring regularly, until onions begin to soften, about 3 minutes. Add apple and herbs to the pan and saute for another 3-4 minutes, until the apple begins to soften. Add kale, salt, and 2 tablespoons of broth to the pan and cook until kale has wilted (about 4 minutes), stirring often.
Meanwhile, whisk together the remaining broth and egg whites in a bowl. Set aside.
Place bread pieces in a large bowl. When the kale mixture is cooked, add to the bread and mix. Pour broth mixture over bread and stir until evenly distributed.
Place stuffing mixture into the prepared dish. Bake at 375F for 25 minutes or until the top is golden brown.
Notes:
Store in the refrigerator, covered, for up to 24 hours. Reheat in the oven.
You can replace the vegetable broth with chicken broth if you do not need this to be vegetarian.
You can use any brand of sourdough bread you prefer, the macros will be very similar.
Lacinato (dinosaur) kale is the best option but you can use any type of kale.
Any apple variety works well for this recipe.
You can use dried herbs instead of fresh if you prefer. Substitute 1 teaspoon of dried rosemary and 1 teaspoon of dried sage.
---
Some of the links above are affiliate links, which may earn Macrostax a commission at no extra cost to you.