This cozy high protein oatmeal will warm you up on a chilly morning! With plenty of protein and fiber, it's a plant-based breakfast that will fuel even the busiest of days.
Servings: 1 bowl
Total Time: 10 minutes
Nutrition Facts: 273 calories / 36.5g carbs / 18.5g protein / 7g fat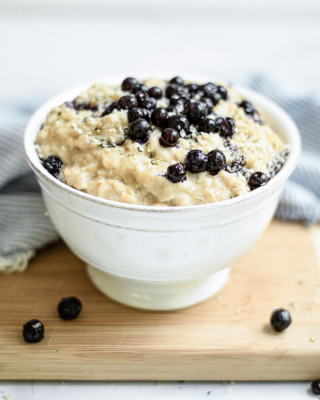 Ingredients:
½ cup (40g) old fashioned oats
1 cup (240g) unsweetened vanilla almond milk
1 teaspoon (4g) vanilla extract
½ scoop (18g) Optimum Nutrition vanilla Gold Standard 100% plant protein
½ cup (119g) water
¼ cup (39g) fresh or frozen blueberries
Instructions:
Add oats, milk, and vanilla extract to a medium saucepan over medium heat. Bring to a boil, then reduce heat to simmer. Let cook, stirring occasionally, until most of the milk has absorbed.
Add the protein powder and water and continue to cook until all liquid has absorbed and oatmeal is a creamy consistency.
Top with blueberries (and any of your other favorite toppings) and serve immediately.
Notes:
You can use water or another type of milk in place of the almond milk, and any brand or flavor of protein powder you prefer (macros will vary).
Other topping suggestions are: hemp seeds, chopped walnuts or pecans, nut butter, honey, cinnamon, or granola (macros not included).
If you decide to use Optimum Nutrition products you can use code "MACROSTAX" for 20% off your purchase!

---

Some of the links above are affiliate links, which may earn Macrostax a commission at no extra cost to you.