Scalloped potatoes are a creamy, cheesy side dish that many of us look forward to during the holidays! This lightened up version has all the flavor you expect from the traditional dish, yet with far less butter and cream. Trust us, your family will love this healthier recipe!
Servings: 6
Serving Size: 3/4 cup (139g)
Prep Time: 15 minutes
Total Time: 1 hour 5 minutes
Nutrition Facts: 215 calories / 30g carbs / 8.5g protein / 7g fat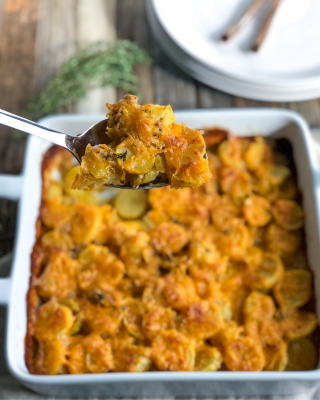 Ingredients:
2 lb (907g) uncooked Yukon gold potatoes
2 tablespoons (29g) unsalted butter
2 cloves garlic (minced)
1 medium (42g) shallot (minced)
¾ teaspoon salt
¼ teaspoon ground black pepper
½ teaspoon onion powder
¾ cup (84g) "Kraft" reduced fat shredded cheddar cheese
1 cup (245g) fat free milk
⅛ teaspoon ground nutmeg
1 teaspoon fresh thyme (stems removed)
Instructions:
Preheat the oven to 425 F. Grease a 2-quart casserole dish with nonstick cooking spray and set aside.
Peel the potatoes and slice thinly.
In a small saucepan over medium-low heat, add butter. Once melted, add minced garlic and cook for 1 minute, or until fragrant. Remove from the heat and set aside.
In a large mixing bowl, add the sliced potatoes, melted butter and shallots, salt, pepper, and garlic powder. Toss well to combine.
Pour about half of the potato mixture into the prepared baking dish and top with about ¼ of the shredded cheese. Add the remaining potatoes on top and set aside.
In the same small saucepan that you used before, add the milk, nutmeg, and thyme. Heat over medium until the milk comes to a simmer. Cook for 1 minute, stirring constantly, then remove the pan from the heat.
Pour the milk mixture evenly over the potatoes and top with the remaining cheese.
Cover the casserole dish with foil and cook for 20 minutes. Remove the foil and cook for another 25 minutes, or until the potatoes are tender and the cheese is lightly browned.
Remove from the oven and allow the scalloped potatoes to cool slightly, about 5 minutes. Serve immediately.
Notes:
This recipe tastes best hot out of the oven. However, you can store leftovers in an airtight container for up to 4 days in the refrigerator.
For extra texture leave the potatoes un-peeled.
You can use white cheddar or any other type of cheese you prefer (macros will vary).
For a slightly creamier consistency, use 2% milk instead. You can also use an unsweetened milk alternative, such as almond or oat milk (macros will vary).
---
Some of the links above are affiliate links, which may earn Macrostax a commission at no extra cost to you.