This Turkey Shepherd's Pie is like a one-pan Thanksgiving! Ground turkey mixed with vegetables and fall herbs topped with creamy mashed potatoes make a satisfying meal without the hassle of cooking a whole turkey.
Servings: 6
Serving Size: About 1 ½ cups (240g)
Prep Time: 30 minutes
Total Time: 50 minutes
Nutrition Facts: 285 calories / 33.5g carbs / 23g protein / 6.5g fat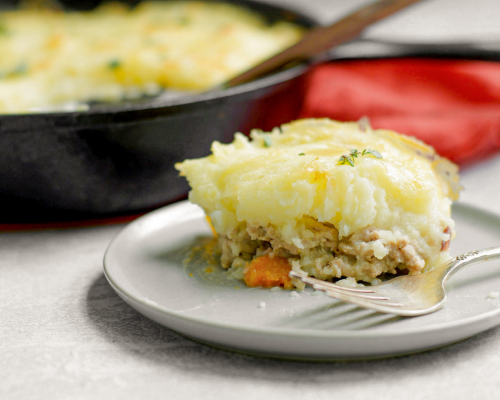 Ingredients:
For the potatoes:
1 ½ pounds (680g) peeled potatoes
2 tablespoons (29g) butter
¼ cup (56g) fat-free plain Greek yogurt
¼ cup (62g) fat free milk
⅛ teaspoon salt
½ cup (57g) grated extra sharp cheddar cheese
For the turkey filling:
1 cup (128g) carrots (diced)
1 cup (240g) onion, diced
½ cup (58g) parsnips, diced
2 teaspoons minced garlic
1 tablespoon fresh oregano, minced
1 tablespoon fresh sage, minced
1 teaspoon thyme
¼ teaspoon salt
¼ cup (58g) white wine
1 pound (453g) 97% lean ground turkey
2 tablespoons (18g) flour
½ cup (103g) fat-free low sodium chicken broth
Instructions:
Preheat oven to 400F.
Cook the potatoes. Add potatoes to a large pot and fill with enough water to cover the potatoes. Bring to a boil and boil until soft, about 20-30 minutes depending on the size of your potatoes (you can cut them smaller to reduce cooking time).
Meanwhile, make the turkey filling. Spray a cast-iron or other oven-safe pan with nonstick cooking spray. Add onion, carrots, parsnips and cook until softened, about 5 minutes. Add garlic and herbs and saute for another 1 minute. Deglaze the pan with the wine and cook for another 2-3 minutes, until the liquid is mostly absorbed.
Add turkey to the pan, breaking it up with a spatula and cook until it's cooked through (no pink should remain). Add the flour and mix well.
Add the broth and simmer until the mixture is thickened. Turn off heat and set aside until ready to top with potatoes.
When potatoes are done, move them to a bowl and mash with a fork or potato masher. Add milk, yogurt, butter, and salt and mix until creamy.
Spread the potatoes evenly over the turkey mixture. Top with cheese and bake in the oven for 20-25 minutes, until the top is golden brown and the turkey mixture is bubbling on the sides. You can also finish it with 1 minute under the broiler if you'd like an extra crispy topping.
Top with optional fresh thyme for serving.
Notes:
Store covered in the refrigerator for up to 3 days. Reheat in the oven or microwave.
If you don't have fresh herbs on hand, you can substitute 1 teaspoon of herbs per 1 tablespoon of fresh.
---
Some of the links above are affiliate links, which may earn Macrostax a commission at no extra cost to you.