Made with lean ground turkey, tomatoes, kale, and Parmesan cheese, this simple kale and turkey pasta recipe is brimming with savory flavors. While delicious hot from the stove, the leftovers taste even better, making it a great meal prep option to enjoy for lunch throughout the week.
Servings: 4
Serving Size: 2 cups (256g)
Prep Time: 10 minutes
Total Time: 30 minutes
Nutrition Facts: 398 calories / 44.5g carbs / 36g protein / 8.5g fat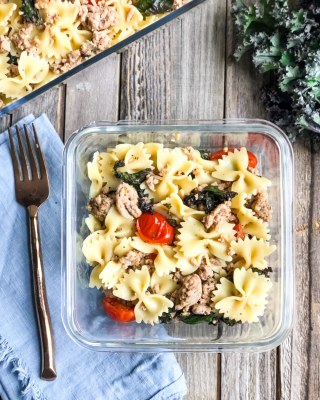 Ingredients:
8 oz (224g) uncooked farfalle pasta
1 tablespoon olive oil (divided)
1 lb (453g) 99% lean ground turkey
1 teaspoon Italian seasoning
¾ teaspoon salt (divided)
½ teaspoon ground black pepper (divided)
1 clove garlic (minced)
5 oz (140g) grape tomatoes (halved)
3 cups (48g) chopped curly kale
¼ cup (29g) freshly grated Parmesan cheese
1 tablespoon fresh lemon juice (about ½ small lemon)
Instructions:
In a large pot, bring 4 quarts of water to a rapid boil over high heat. Once boiling, add the pasta and cook for 11 minutes, or until al dente. Once cooked, reserve ¼ cup of the pasta water before draining the pasta in a colander. Set aside.
Place a large skillet over medium-high heat and add 1 teaspoon of oil. One the oil is hot, add the ground turkey, Italian seasoning, ¼ teaspoon of salt, and ¼ teaspoon of black pepper. Cook for 5 minutes, or until the turkey is cooked through, stirring occasionally to break up the meat. Once cooked, transfer the turkey to a paper towel-lined plate.
Reduce the heat to medium and add the remaining 2 teaspoons of oil. Add the garlic and halved grape tomatoes into the skillet. Cook for 5 minutes, or until the tomatoes are heated through.
Add the chopped kale and remaining ½ teaspoon of salt and ¼ teaspoon of pepper. Cook until the kale is soft and slightly wilted, about 5 minutes.
Once the kale is wilted, stir in the cheese, reserved pasta water, and cooked ground turkey. Cook for 3 to 4 minutes, or until the cheese is melted. Remove the skillet from the heat and stir in the lemon juice.
Add the cooked pasta into the skillet and toss to combine. If your skillet is too small, combine the pasta and vegetables in a large mixing bowl instead.
Serve immediately or allow to cool completely before storing.
Notes:
Feel free to use any short pasta in place of the farfalle, such as rotini or penne.
The curly kale can be substituted for lacinato kale or spinach.
To prepare this pasta for meal prep, divide the tossed pasta into four individual food storage containers. Allow the pasta to cool to room temperature before sealing and storing in the fridge. To reheat, simply place one serving in the microwave for 60 to 90 seconds.
Leftovers will keep in an airtight container in the fridge for up to 5 days.
To make the ground turkey taste more like sausage, add ½ teaspoon of fennel seeds to the turkey while it cooks.
To make this recipe gluten-free, use gluten-free pasta instead (macros will vary).