Enjoy the best flavors of fall in this one-pan harvest chicken skillet. Ready in 30 minutes or less, this recipe is the perfect weeknight family meal.
Servings: 4
Serving Size: generous 1 ¼ cups (208g)
Prep Time: 10 minutes
Total Time: 30 minutes
Nutrition Facts: 280 calories / 23g carbs / 25.5g protein / 8.5g fat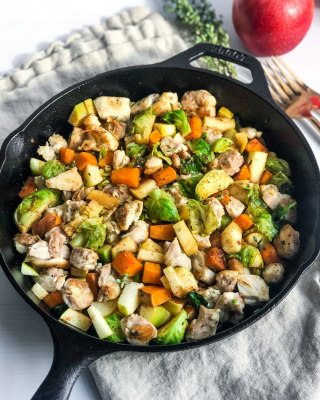 Ingredients:
1 tablespoon (13g) olive oil (divided)
1 lb (454g) boneless, skinless chicken thighs, cut into 1 ½-inch cubes
1 teaspoon salt (divided)
½ teaspoon pepper (divided)
½ lb (227g) Brussels sprouts (trimmed and quartered)
1 small (170g) sweet potato (diced in ¼-inch pieces)
1 medium (43g) shallot (minced)
1 cup (205g) low-sodium fat-free chicken broth (divided)
1 medium (3" dia) (182g) Granny Smith apple (diced)
2 cloves garlic (minced)
2 teaspoons fresh thyme
¾ teaspoon ground cinnamon
¼ teaspoon ground nutmeg
Instructions:
In a large skillet, add 2 teaspoons of olive oil and heat over medium-high heat. Once the oil is hot, add the cubed chicken thighs, ½ teaspoon of salt, and ¼ teaspoon of black pepper. Cook for 2 minutes per side, or until browned but not cooked through. Transfer browned chicken to a paper towel-lined plate and set aside.
Reduce the heat to medium and add the remaining 1 teaspoon of olive oil to the skillet. Add the brussels sprouts, cubed sweet potato, minced shallot, and remaining ½ teaspoon of salt and ¼ teaspoon of black pepper. Toss to combine, and then add ½ cup of chicken broth. Cook for 8 to 10 minutes, or until the brussels sprouts are tender.
Stir in the diced apple, garlic, fresh thyme, cinnamon, and nutmeg.
Add the browned chicken thighs and remaining ½ cup of broth. Cook for 5 minutes, or until the chicken is fully cooked.
Remove the skillet from the heat and serve with cooked quinoa.
Notes:
Store leftovers in an airtight container in the fridge for up to 5 days.
Feel free to use another tart, crispy apple, such as HoneyCrisp, Pink Lady, or Fuji.
Using a heavy-bottom pan, such as a cast iron skillet or dutch oven will help distribute the heat better and will result in more even cooking.
Try to avoid overcrowding your skillet when you brown the chicken as it won't brown as well. If needed, brown your chicken in two batches, using 1 teaspoon of oil per batch.