This slow cooker chicken piccata is a gluten-free, dairy-free twist on the classic Italian recipe. By browning the chicken before placing it in the slow cooker, you get a better depth of flavor that more closely resembles the traditional recipe. Served with fluffy quinoa, this lemony chicken is a delicious staple!
Servings: 4
Serving Size: 1 chicken breast with sauce (173g)
Prep Time: 10 minutes
Total Time: 2 hours and 10 minutes
Nutrition Facts: 188 calories / 3g carbs / 26g protein / 7.5g fat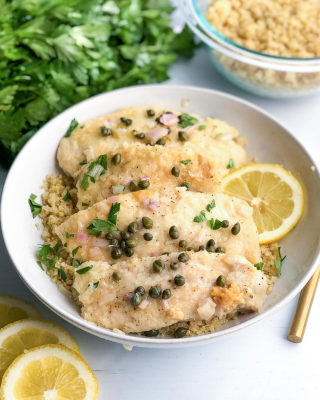 Ingredients:
1 pound (452g) boneless skinless chicken breasts
¼ cup (32g) cornstarch
½ teaspoon salt
½ teaspoon ground pepper
4 teaspoons (17g) extra-virgin olive oil
4 tablespoons (60g) lemon juice (about 1 large lemon)
1 large shallot (43g), diced
1 clove garlic (4.5g), minced
1 1/4 cup (2465g) fat free reduced sodium chicken broth
4 teaspoons (12g) drained capers
Optional garnish: 1/4 cup chopped parsley (macros not included)
Instructions:
Slice chicken into four 4-ounce (113g) thin cutlets. If needed, use a meat tenderizer to make each cutlet about 1-inch thick.
In a shallow bowl, mix together the cornstarch, salt, and pepper. Dredge each chicken cutlet in the mixture to coat and set aside.
Heat a large skillet over medium-high heat and add the olive oil. Once the oil is hot, add the chicken cutlets, cooking for 1 minute per side. The chicken should be lightly browned, but not cooked through.
Transfer the chicken into the slow cooker. Add the lemon juice, shallot, garlic, and chicken broth. Cover and cook on low for 2 hours.
Once cooked, top with capers and garnish with chopped parsley. Serve with cooked quinoa (macros not included) and enjoy.
Notes:
Store leftovers in an airtight container for up to 3-4 days in the fridge.
If you're not ready to serve dinner immediately, use the "keep warm" setting on your slow cooker (if available on your model) for up to 1 hour to keep the dish nice and hot without overcooking the chicken.
---
Some of the links above are affiliate links, which may earn Macrostax a commission at no extra cost to you.