This spooky chocolate pudding cup recipe is a healthier twist on traditional dirt cake pudding cups! Silken tofu is the secret ingredient that makes this dessert rich, creamy, AND high in protein! Once everything is blended together and set your family will never suspect that tofu was involved!
Servings: 4
Serving Size: 1 pudding cup
Prep Time: 10 minutes
Total Time: 4 hours and 10 minutes
Nutrition Facts: 149 calories / 18.5g carbs / 11.5g protein / 3.5g fat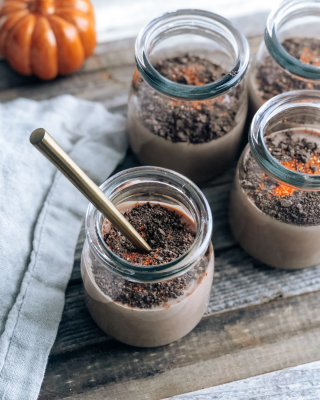 Ingredients:
1 (16 ounce) package (454g) Nasoya silken tofu, drained
1 scoop (30g) "Optimum Nutrition" Gold Standard chocolate whey protein powder
2 tablespoons (10g) unsweetened cocoa powder
1/4 cup (80g) pure maple syrup
1 teaspoon (5g) vanilla extract
1/8 teaspoon salt
1 full sheet (15.5g) "Honey Maid" chocolate graham cracker (crushed into fine crumbs)
1 1/2 teaspoons (6g) sprinkles
Instructions:
In a high-powered blender, add the silken tofu, protein powder, cocoa powder, maple syrup, vanilla extract, and salt. Blend until smooth.
Pour the mixture into four individual bowls or glass jars, cover, and place in the fridge for at least 4 hours or overnight.
Just before serving, crush graham crackers into fine crumbs and sprinkle 1 3/4 teaspoons of crumbs on top of each pudding cup. Add 1/4 teaspoon of sprinkles to each jar and serve immediately.
Notes:
Leftovers should be stored in airtight containers in the fridge for up to 5 days.
You can store the pudding in one large container, just note that it will take longer to set.
As the pudding is its thickest when cold, it's best to serve it immediately from the fridge.
The calories and macronutrient values will vary depending on the brand of protein powder used.
How chocolatey your pudding ends up is also dependent on the brand of protein powder.
To make the graham cracker crumbs, either use a food processor or place the graham cracker in a zip-top bag and use a meat tenderizer or rolling pin to crush the cracker.
To make this recipe vegan, use vegan chocolate cookies, such as Enjoy Life's Crunchy Chocolate Cookies, and a plant-based protein powder.
If you decide to use Optimum Nutrition products you can use code "MACROSTAX" for 20% off your purchase!
---
Some of the links above are affiliate links, which may earn Macrostax a commission at no extra cost to you.