Buffalo cauliflower is a fun twist on Buffalo chicken wings with the same classic flavors you love! These are baked instead of fried and are a great plant-based option for your next game-day party.
Servings: 4 servings
Serving Size: 75g
Prep Time: 10 minutes
Total Time: 30 minutes
Nutrition Facts: 62 calories / 10.5g carbs / 4.5g protein / 0g fat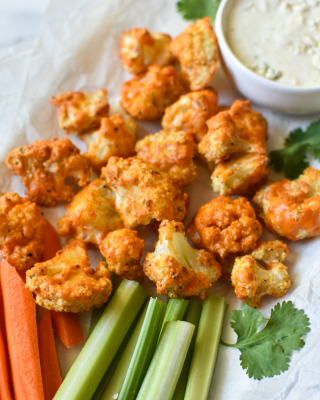 Ingredients:
12 ounce (340g) pre-chopped cauliflower florets
2 large (66g) egg whites
¼ cup (32g) all purpose flour
1 teaspoon granulated garlic powder
½ teaspoon smoked paprika
½ teaspoon salt
¼ teaspoon ground black pepper
¼ cup (60g) "Frank's RedHot" Buffalo wing sauce
Optional garnishes: cilantro
Instructions:
Preheat the oven to 450 degrees F. Line a sheet pan with parchment paper and set aside.
Add cauliflower florets to a large bowl. Whisk the egg whites lightly with a fork and then toss with the florets to coat.
Mix flour and seasonings in a separate small dish and then pour into the bowl. Toss well until evenly distributed.
Transfer the cauliflower florets to the sheet pan and bake for 10 minutes, uninterrupted. Gently flip each floret and return to the oven for another 5 minutes. Remove from the oven and turn the broiler on high.
Pour the Buffalo sauce over the cauliflower, coating the florets as evenly as possible, and return to the oven for 2-3 final minutes until bubbly and browned on the edges.
Serve with dipping sauce of choice, carrot and celery sticks for a similar presentation to chicken wings (macros not included).
Notes:
The cauliflower bites lose their crispness as they rest, be sure to serve immediately after cooking.
Any brand of Buffalo sauce can be used but macros may vary.