A delicious, well-rounded dinner that's sure to become part of your weeknight rotation! Pair it with a side salad and a dash or two of your favorite hot sauce.
Servings: 8
Serving Size: 1 slice (275g)
Prep Time: 25 minutes
Total Time: 1 hour
Nutrition Facts: 326 calories / 30g carbs / 30g protein / 9g fat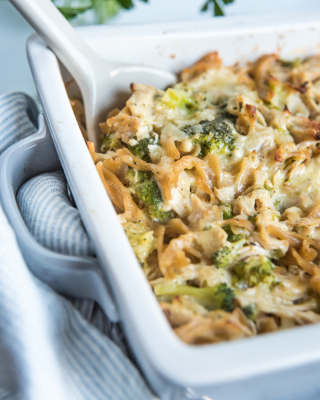 Ingredients:
8-ounces (224g) uncooked whole wheat fusilli
16-ounces (448g) broccoli florets
1 tablespoon butter
1 large (250g) onion (diced)
4 cloves (12g) garlic (minced)
2 tablespoons flour
1 cup (240g) chicken broth
1 ¼ cups (307g) nonfat milk
2 tablespoons (30g) Dijon mustard
½ tsp salt
¼ tsp ground black pepper
½ cup (113g) 2% cottage cheese
1 cup (112g) shredded sharp cheddar cheese (divided)
1 pound (454g) cooked chicken breast (diced or shredded)
Instructions:
Preheat the oven to 400 degrees and prepare a 9'x13' baking dish with nonstick cooking spray.
Bring a large pot of generously salted water to a rolling boil. Cook pasta according to package instructions, aiming for al dente. One minute before the pasta is done, add the broccoli to the water. Cook broccoli together with pasta for the final minute, drain, and return to the pot. Set aside.
To make the cheese sauce, heat butter in a large saucepan over medium heat. Add the onion and garlic and sauté until soft and fragrant, about 3-4 minutes. Stir in the flour and cook for an additional minute, making sure that the onion and garlic are well-coated in the flour. Slowly add the chicken stock, stirring continuously to break up any flour lumps, then add the milk. Bring the mixture to a simmer and cook, stirring regularly, until the mixture starts to thicken – about 5 minutes. Remove from heat and stir in Dijon mustard, cottage cheese, and ½ cup of the shredded cheese. Season with salt and pepper.
Add cheese sauce and cooked chicken breast to the pot with the pasta and broccoli and toss to combine. Transfer to the prepared baking dish, sprinkle with remaining ½ cup cheese, and bake for 25-30 minutes until the top is golden brown and bubbly.
Allow the casserole to cool for 10 minutes before slicing. Serve warm, garnished with additional herbs, if desired.
Notes:
Any pasta of your choice will work in place of the fusilli.
The casserole will keep for up to 4 days in the fridge or 2 months in the freezer. To reheat from frozen, thaw in the fridge overnight, cover the top with aluminum foil, and bake in the oven at 350 degrees until warmed throughout (about 25-30 minutes). Individual slices may be thawed and reheated in the microwave for a meal on the go.
Fresh broccoli is recommended, but frozen broccoli may also be substituted. Thaw before adding to pasta water.