Chocolate Chip Cookie Bars: the lazy person's version of choc chip cookies 😉 These cookie bars are soft, chewy, just slightly cakey, and stuffed to the brim with chocolate chips! This lightened-up recipe is great for special occasions or potlucks (if you feel like sharing!).
Servings: 24 bars
Serving Size: 1 bar
Prep Time: 15 minutes
Total Time: 45 minutes
Nutrition Facts: 212 calories / 29g carbs / 2.5g protein / 10.5g fat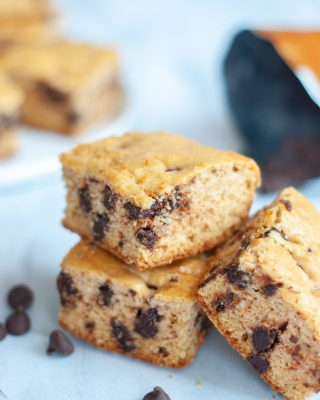 Ingredients:
3 ¼ cups (406g) flour
2 teaspoons cornstarch
1 ½ teaspoons baking soda
¾ teaspoon salt
1 cup (220g) packed brown sugar
¾ cup (164g) coconut oil (melted and cooled)
½ cup (122g) unsweetened applesauce
2 eggs (100g)
1 egg yolk (17g)
2 teaspoons vanilla extract
1 ¼ cup (228g) "Guittard" semi-sweet chocolate chips
Instructions:
Preheat oven to 350 degrees. Line a 9×13-inch baking pan with foil or parchment paper. Spray lightly with non-stick spray.
Whisk the flour, baking soda, cornstarch, and salt together in a large bowl.
In a medium bowl whisk together the brown sugar, cooled coconut oil, and applesauce. Add the eggs and egg yolk and mix well. Stir in the vanilla extract.
Pour the wet ingredients into the large bowl with the dry ingredients. Mix until combined. Fold in the chocolate chips.
Spoon the dough into the prepared baking pan and smooth with a spatula or knife. The dough can be quite sticky, so if needed use slightly dampened fingers to press the dough evenly into the pan.
Bake for 18-20 minutes or until very lightly browned and a toothpick comes out with just a few crumbs. Be careful not to over bake – you want the bars to be slightly soft in the middle because they will set up as they cool.
Cool the bars in the pan for 30 minutes. Then, lift the bars out using the foil or parchment paper and place on a cutting board. Cool to room temperature.
Slice into 24 squares. Store in an airtight container for 5-7 days or in the freezer for up to 3 months.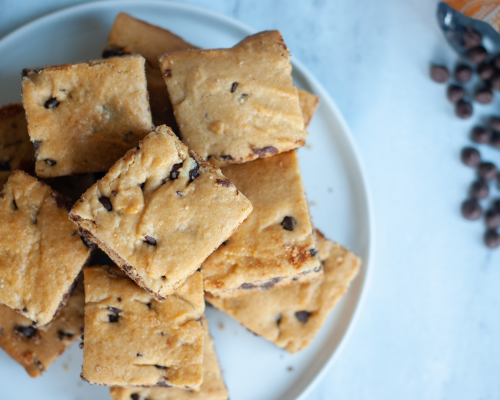 Notes:
GF: use "Bob's Red Mill" 1-to-1 gluten-free all purpose flour instead of regular flour. Macros: 32.5g carbs / 2g protein / 10g fat / 221 calories.