This summery salad has everything we love about restaurant-style Cobb salads, but with less than half the fat! Picture this: crisp greens topped with chicken, ham, hardboiled egg, avocado, and veggies, drizzled with a 3-ingredient oil-free dressing. So good!
Servings: 1
Prep Time: 10 minutes
Total Time: 10 minutes
Nutrition Facts: 290 calories / 16.5g carbs / 31.5g protein / 13g fat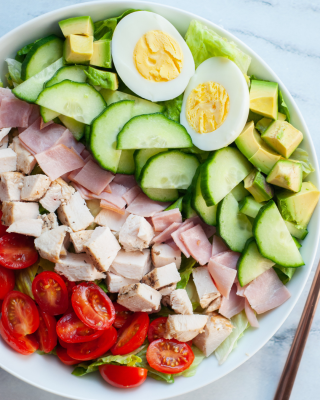 Ingredients:
Salad:
2 cups (94g) chopped Romaine lettuce
1 hardboiled egg (50g)
¼ avocado (34g)
3 oz (85g) rotisserie chicken breast (chopped)
1 oz (28g) "Hormel Natural Choice" applewood smoked ham (chopped)
½ cup (26g) chopped cucumber
½ cup (90g) chopped tomatoes
Dressing:
2 tablespoons red wine vinegar
1 teaspoon Dijon mustard
½ teaspoon honey
Salt and pepper
Instructions:
Whisk the dressing ingredients together in a small bowl.
Place the Romaine lettuce in a bowl and top with cucumber, tomatoes, chicken, ham, hardboiled egg, and avocado.
Drizzle with the dressing and toss to combine.
Notes:
You can make the salad ahead of time, just store the salad dressing separately and toss when ready to enjoy.