Carrot Cake Oatmeal Cups are our favorite way to eat vegetables (and dessert) for breakfast! Naturally sweetened and packed full of oats, carrots, and walnuts, this on-the-go breakfast has some serious staying power.
Makes: 12 oatmeal cups
Prep Time: 10 minutes
Total Time: 40 minutes
Nutrition Facts: 143 calories / 22.5g carbs / 5g protein / 4g fat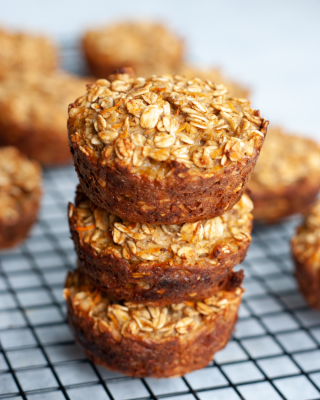 Ingredients:
1 cup fat-free "Fairlife" milk
2 eggs
½ cup unsweetened applesauce
⅓ cup maple syrup
1 teaspoon vanilla
3 cups old-fashioned oats
1 teaspoon baking powder
2 teaspoons pumpkin pie spice
½ teaspoon salt
1 cup finely grated carrot
¼ cup chopped walnuts
Instructions:
Preheat oven to 350 degrees and line a 12-cup muffin pan with paper liners or spray well with nonstick spray.
In a large bowl mix together the milk, eggs, applesauce, maple syrup, and vanilla. Add the oats, baking powder, pumpkin pie spice, and salt and stir well.
Fold in the grated carrot and chopped walnuts.
Spoon the oat batter into the prepared muffin cups, filling each to the top. Bake for 30-35 minutes, until lightly browned and firm to the touch.
Place on a cooling rack and cool to room temperature. Store in an airtight container in the refrigerator for up to a week, or the freezer for up to 3 months.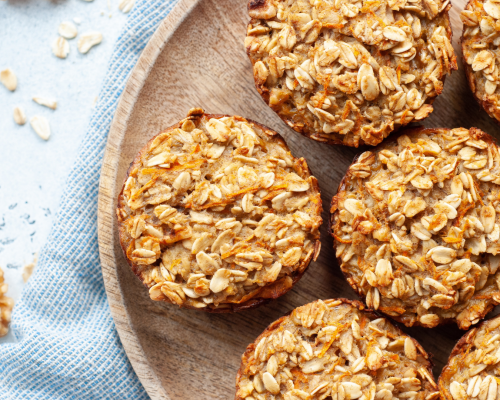 Notes:
Dairy-free/vegan version: substitute 1 ¼ cups unsweetened almond milk for the Fairlife milk and add 2 tablespoons of ground flaxseed to the wet ingredients instead of the eggs. Macros: 133 calories / 22.5g carbs / 3.5g protein / 4g fat.
If you don't have pumpkin pie spice, use 1 ½ teaspoons cinnamon and ½ teaspoon nutmeg instead.
---
Some of the links above are affiliate links, which may earn Macrostax a commission at no extra cost to you.