Meat? Check. Pasta? Check. Cheese? Double check. These melty layers are calling your name! This Turkey Lasagna is a (slightly) lighter version of our favorite comfort food, but still has everything we love about this classic dish.
Servings: 8
Serving Size: ⅛ of dish (about 240g)
Prep Time: 30 minutes
Total Time: 1 hour 30 minutes
Nutrition Facts: 399 calories / 32.5g carbs / 31.5g protein / 17.5g fat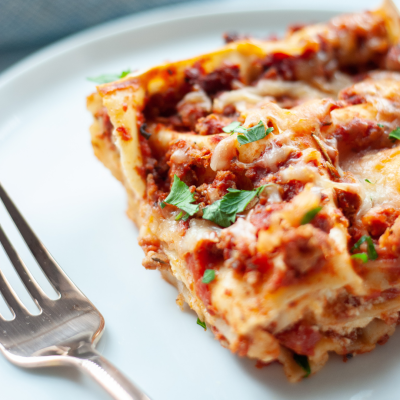 Ingredients:
1 1b (453g) 93% lean ground turkey
1 28-oz can (794g) whole peeled tomatoes
1 6-oz can (170g) tomato paste
2 tablespoons Italian seasoning
¾ teaspoon salt
2 cups (496g) "Sargento" part-skim ricotta cheese
1 egg (50g)
¼ cup (25g) shredded Parmesan cheese
2 ½ cups (280g) "Kraft" shredded part-skim mozzarella cheese
12 sheets (212g) "Barilla" oven-ready lasagne pasta
Instructions:
Sauté the ground turkey in a saucepan or large skillet over medium heat until no longer pink. Drain the excess liquid from the pan.
Add the canned tomatoes, tomato paste, Italian seasoning, and ½ teaspoon of salt to the pan and stir well. Use a wooden spoon to break up the whole tomatoes into smaller pieces.
Bring to a simmer and reduce heat to medium-low. Cook for 10-15 minutes (no lid), stirring occasionally, until the sauce is slightly thickened.
In the meantime, preheat the oven to 350 degrees and spray a 9×13-inch baking dish with nonstick cooking spray.
In a small bowl, mix together the ricotta cheese, egg, Parmesan cheese, and remaining ¼ teaspoon salt.
Spread about 1 cup of sauce on the bottom of the baking dish. Place 4 noodles on top of the sauce, covering the bottom of the dish.
Top the noodles with about ⅓ of the remaining sauce. Spread to evenly cover the noodles.
Spoon half of the ricotta mixture over the sauce, spreading as evenly as possible with a knife or spatula. Sprinkle with ¾ cup of shredded mozzarella.
Repeat, layering 4 more lasagne noodles topped with half of the remaining meat sauce, all of the remaining ricotta, and ¾ cup of mozzarella.
Layer the remaining 4 lasagne noodles and top with the remaining meat sauce and the rest of the mozzarella cheese.
Cover with foil and bake for 30 minutes. Remove the foil and bake for another 15-20 minutes or until cheese is melted and bubbly!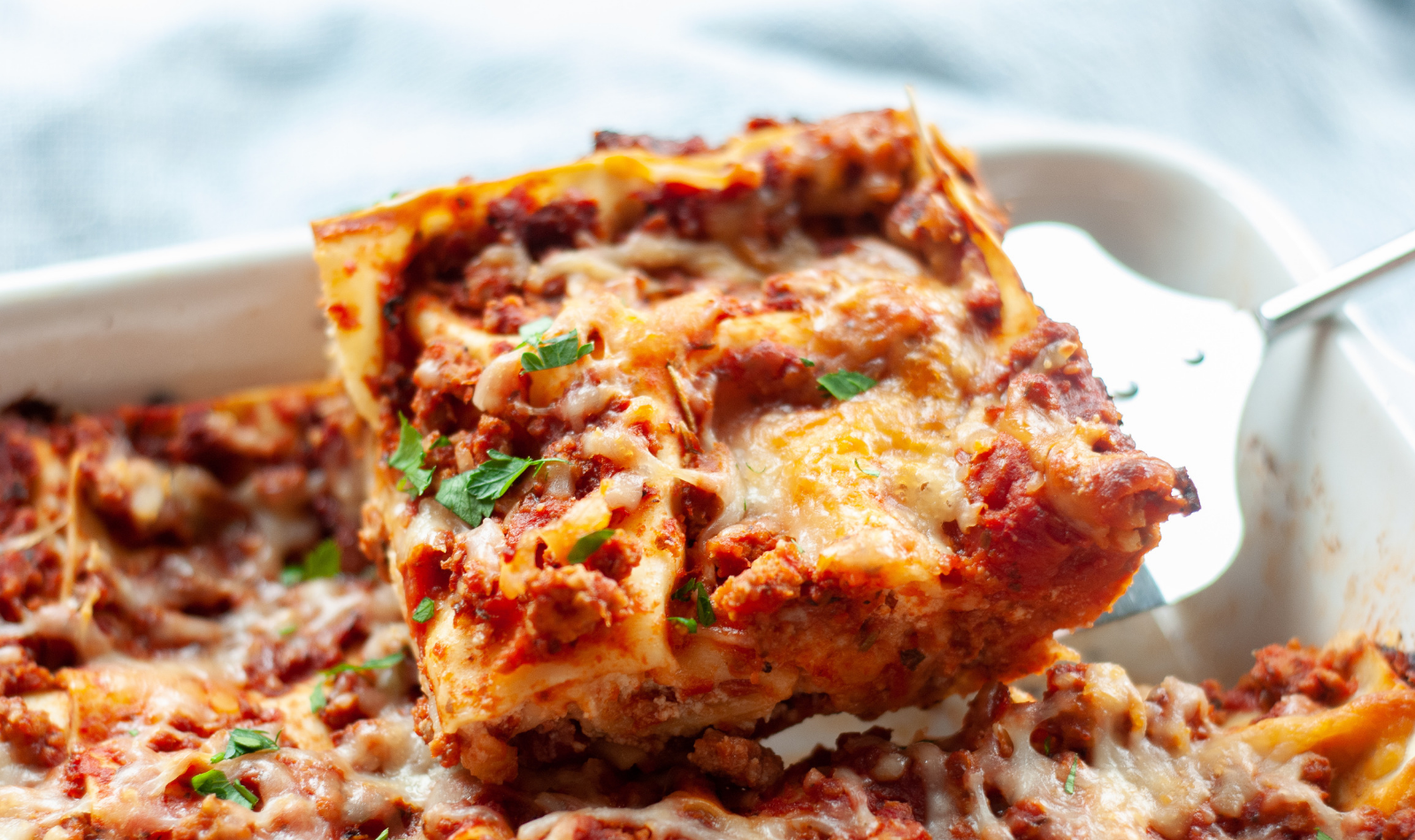 Notes:
You can also use regular lasagne noodles. Boil per package instructions before assembling the lasagna layers.
You can freeze this dish before baking: cover the assembled lasagna tightly with plastic wrap and foil and freeze for up to 3 months. Defrost overnight in the refrigerator before baking per recipe instructions.