What if we told you that a delicious single-serving dessert could be yours in less than 5 minutes? A microwave and a mug are all you need for this easy Chocolate Protein Mug Cake recipe! Plus with 12 grams of protein, this "dessert" could totally count as a snack. Or breakfast. No judgement here!
Servings: 1
Prep Time: 5 minutes
Nutrition Facts:  212 calories / 31.5g carbs / 12g protein / 5.5g fat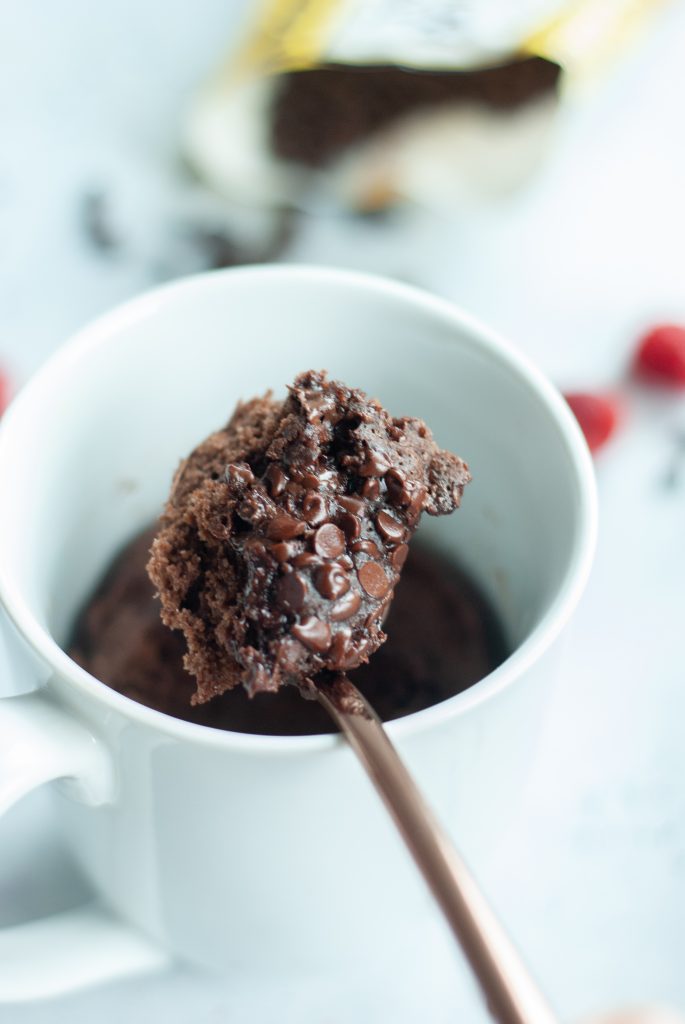 Ingredients:
¼ cup (27g) "Kodiak Cakes" Power dark chocolate mix
2 tablespoons (31g) egg whites
2 tablespoons (31g) unsweetened applesauce
2 tablespoons (31g) fat-free milk
1 tablespoon (11g) "Nestle" semi-sweet mini chocolate chips
1 teaspoon(2g) cocoa powder
1 teaspoon (4g) sugar
Instructions:
Mix all ingredients together in a large mug.
Microwave for about 50-60 seconds on high power. Do not overcook! The mug cake is done when the edges are firm and the center is still slightly gooey.
Notes:
Special occasion? Top with whipped cream, powdered sugar, fresh fruit, chocolate chips, nut butter, or vanilla ice cream (macros not included.)
Overcooking will lead to a dry mug cake! Microwave time may vary according to your microwave, so start with 50 seconds and increase by 10 second increments.
You can substitute regular chocolate chips for the mini chocolate chips.
Shopping tip: if you only use a few tablespoons of applesauce at a time for a recipe like this, buy the individually-packaged 4oz containers of applesauce. They last for months in the pantry!