Mark your special occasion with this macro-friendly indulgence – a Greek yogurt and dark chocolate mousse! Smooth and creamy with a slight yogurt-y tang, this dessert tastes of pure decadence and is sure to impress.
Servings: 5
Serving Size: ½ cup (112 g)
Prep Time: 15 minutes
Total Time: 2 hrs 15 min
Nutrition Facts: 234 calories / 21.5g carbs / 10.5g protein / 12g fat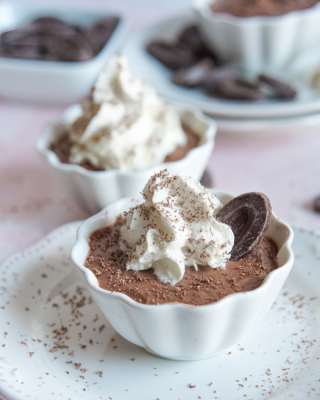 Ingredients:
4 ½-ounces (128g) dark chocolate (roughly chopped)
1 cup (227g) 'Fage' plain nonfat Greek yogurt (divided)
1 large (17g) egg yolk
2 tablespoons (40g) maple syrup
1 ½ tablespoons flour
½ teaspoon vanilla extract
4 large (132g) egg whites
optional garnishes: additional Greek yogurt, light whipped cream, chocolate shavings, or berries
Instructions:
Place chopped chocolate in a microwave safe bowl (preferably glass) and microwave for 1:30-2:00 minutes, stopping to stir every 30 seconds.
Combine half the yogurt, egg yolk, maple syrup, flour, and a pinch of salt in a small saucepan over low heat. Cook, stirring continuously, until the mixture starts to thicken – about 2 minutes. Turn off the heat and stir in melted chocolate, reserved yogurt, and vanilla. Transfer to a large, clean bowl and set aside.
Using a hand whisk or stand mixer, whip egg whites to medium-stiff peaks. Gently fold into chocolate mixture in three separate additions, taking care not to over-mix.
Divide mousse evenly between 5 glasses or a large dish and refrigerate at least 2 hours prior to serving or up to 5 days. Serve cold.
Notes:
Please note this recipe contains raw eggs, which some populations may choose to avoid.
Make sure to pick a good quality dark chocolate. Avoid chocolate chips, as these are manufactured to keep their 'chip' shape and will not melt smoothly
For best results, avoid using the liquid egg whites that come in cartons from the store as these egg whites will not whip properly.
Not sure when to stop whipping your egg whites? A medium-stiff peak means that when the beaters are lifted from the bowl, the egg whites will hold their shape but the tip of the peak will still curl back over itself.