Who's ready for the holiday baking season?? We are! With this macro-friendly cookie recipe on hand there's no reason to skip dessert. Our Chocolate Peppermint Holiday Cookies are chewy, chocolatey, and super soft. Oh, and they're dairy-free, ready in 20 minutes, and DELICIOUS too! These cookies are the perfect gift for friends, family, coworkers, neighbors (or yourself), so get baking!
Servings: 16
Serving Size: 1 cookie
Prep Time: 10 minutes
Total Time: 20 minutes
Nutrition Facts:  120 calories / 18.5g carbs / 2.5g protein / 3.5g fat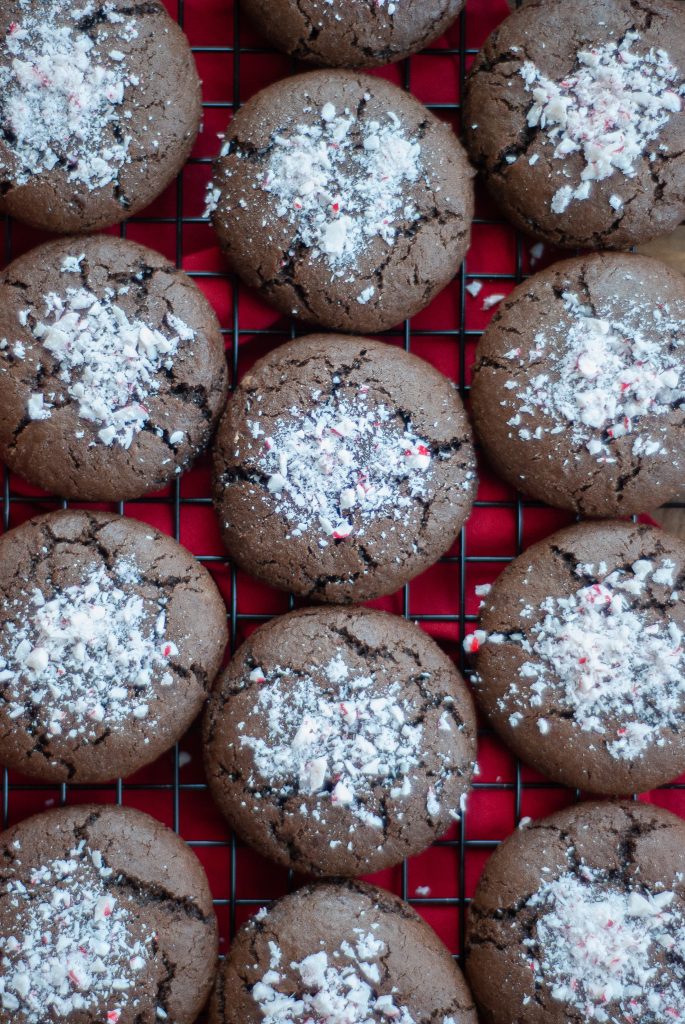 Ingredients:
¾ cup sugar
⅓ cup almond butter
1 egg
3 tablespoons unsweetened almond milk
2 teaspoons vanilla
1 cup all-purpose flour
½ cup cocoa powder
¾ teaspoon baking soda
½ teaspoon salt
1 large candy cane
Instructions:
Preheat oven to 325 degrees and prepare a baking sheet by spraying with nonstick cooking spray or lining with parchment paper.
In a large bowl mix together the sugar, almond butter, egg, milk, and vanilla with a whisk or fork.
Add the flour, cocoa, baking soda, and salt and mix until just combined. The dough should be thick and sticky.
Drop spoonfuls of dough onto the prepared baking sheet (about 1 ½ tablespoons per cookie) to form 16 cookies. Roll into balls with damp hands and press down lightly with your palm to slightly flatten them.
Bake for 10-11 minutes. While the cookies are baking crush the candy cane. Our favorite method is to place it in a small zip-top plastic bag, wrap in a thin kitchen towel, and use a heavy pan or rolling pin to smash the candy until it's finely ground.
When the cookies are done remove the baking sheet from the oven. Immediately sprinkle with crushed candy cane.
Cool the cookies to room temperature. Store in an airtight container at room temperature or in the refrigerator for up to 5 days, or the freezer for up to 5 months.
Notes:
You can also use regular fat-free milk instead of unsweetened almond milk. Macros per cookie: 18.5C/3P/3.5F.
---
Some of the links above are affiliate links, which may earn Macrostax a commission at no extra cost to you.