This classic cheeseburger recipe uses the "smashburger" technique to create a burger that's charred and crispy.
Servings: 4
Serving Size: 1 burger (215g)
Prep Time: 10 minutes
Total Time: 20 minutes
Nutrition Facts: 405 calories / 33g carb / 32g pro / 15g fat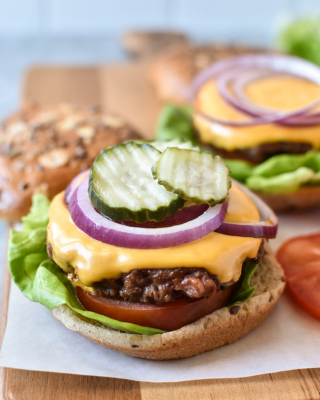 Ingredients:
1 pound of 93% lean ground beef (454g)
2 pieces "Kraft" big slice cheddar cheese (cut in half) (46g)
4 "Dave's Killer Bread" whole grain hamburger buns (248g)
4 butter lettuce leaves
1 (150g) medium ripe tomato (sliced)
12 slices red onion (thinly sliced)
Optional garnishes: pickles, ketchup, mustard
Instructions:
Preheat a grill pan or cast iron skillet over medium high heat.
Separate the ground beef into four, 4-ounce portions, then add them to the skillet and flatten with a metal spatula. Sprinkle each with salt and/or pepper to taste. Cook for 3-5 minutes or until the bottom is crispy. Flip, season with salt and top each with a piece of the cheese. Cover and let cook until it reaches desired level of doneness.
Serve on buns (you can toast them if you want) and top with lettuce, tomato, pickles and red onion. Garnish with ketchup, mustard, or condiment of choice (macros may vary).
Notes
Customize your burger by substituting any variety of cheese or omit entirely for a lower fat option. Macros will vary across cheese types and brands.