A simple and fresh fish taco recipe. Just like your favorite Mexican restaurant but you get to customize the ingredients.
Servings: 4
Serving Size: 2 tacos (130g)
Prep Time: 10 minutes
Total Time: 20 minutes
Nutrition Facts: 342 calories / 32g carb / 25g protein / 10g fat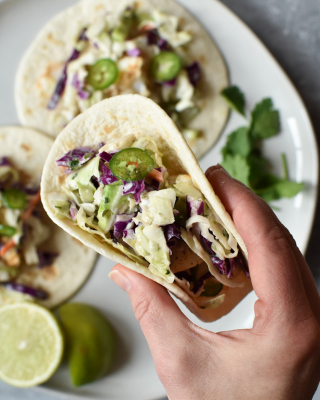 Ingredients:
2 tablespoons fresh lime juice
1 tablespoon olive oil
2 teaspoons lime zest
1 teaspoon chili powder
1/2 teaspoon salt
16-ounces (448g) raw cod filets
2 cups (120g) bagged coleslaw mix
1/3 cup (80g) "Bolthouse Farms" ranch dressing
8 street (204g) "Mission" street taco size flour tortillas
Instructions:
Add lime juice, olive oil, lime zest, chili powder, and salt to a small bowl and whisk with a fork until completely combined. Place the cod in a shallow dish then brush marinade all over. Let sit for 10 minutes.
Meanwhile, make the slaw: toss the pre-shredded slaw mix with the ranch dressing and set aside.
Heat a large nonstick skillet over medium high heat. Cook fish until it easily flakes with a fork, about 4-5 minutes per side.
Warm tortillas. Top with flaked fish and slaw and serve immediately. Top with additional dressing, thinly sliced jalapenos, cilantro, or avocado, if desired (macros not included).
Notes:
If you can't find bagged coleslaw mix or pre-shredded cabbage, use a mandoline or sharp knife to finely shred cabbage.
If cod is unavailable, substitute with a similar white fish like halibut, tilapia, or haddock.
Use any variety of ranch dressing, though macros may vary greatly across brands.