Who doesn't love a good old fashioned sugar cookie during the holidays?! This macro-friendly version is much lower in fat and sugar than traditional sugar cookies, but you still get the familiar buttery flavor we all know and love.
Makes: 12 cookies
Serving Size: 1 cookie
Prep Time: 30 minutes
Total Time: 40 minutes
Nutrition Facts:  98 calories / 19.5g carbs / 2g protein / 2.5g fat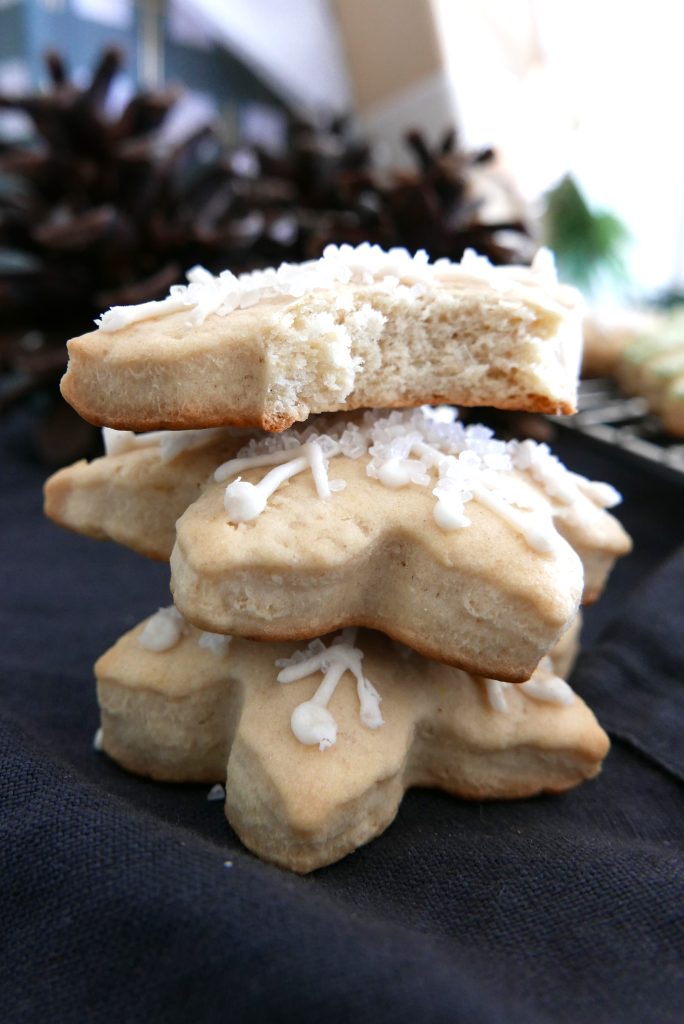 Ingredients:
Cookies:
1 ⅓ cups (167g) all-purpose flour
¾ teaspoon cornstarch
¼ teaspoon baking powder
¼ teaspoon salt
2 tablespoons (28g) unsalted butter, melted and cooled slightly
1 large egg (50g), room temperature
1 teaspoon vanilla extract
½ teaspoon butter extract
¼ cup (85g) honey
¾ teaspoon vanilla Stevia extract
Icing:
Special equipment:
*If you don't have these, you can use a drinking glass to cut round cookies or a clean wine bottle as a rolling pin!
Instructions:
In a large bowl, mix together the flour, cornstarch, baking powder, and salt with a whisk or fork.
In a separate bowl, whisk together the butter, egg, vanilla extract, and butter extract. Then stir in the honey and Stevia extract.
Slowly mix the dry mixture into the wet mixture, until just incorporated. Don't overmix! The dough should be a little sticky.
Shape the dough into a small rectangle and cover tightly with cling film so there's no air. Refrigerate for at least 1 hour or overnight.
Preheat oven to 350 degrees and prepare two baking sheets by spraying with nonstick cooking spray or lining with parchment paper.
When you're ready to bake, roll out the dough on a lightly floured surface, a silicone baking mat, or the cling film.
Roll to ⅛ inch thickness and user your cookie cutter(s) to cut shapes as close together as possible into the dough. When you've finished, remove the scraps around the shapes, instead of trying to peel the shapes out.
Place shapes onto the baking sheets at least 1 inch apart. You can reroll the scraps and repeat to make more shapes.
Bake the cookies for 8-10 minutes, or until the edges are just beginning to turn golden. Let cool on the baking sheet before transferring to a cookie rack.
For the icing, mix the confectioner's sugar and milk together in a bowl.
When the cookies have completely cooled, use a piping bag or just a spoon to decorate your cookies! You can use food coloring or sprinkles to get creative.
Notes:
If possible, try not to re-roll the dough more than twice. After you place the cut cookies on the baking sheet, you can also put them in the refrigerator to help retain their shape.
The number of cookies this recipe produces may vary depending on size of your cookie cutter.
You can also use any kind of milk instead for the icing (macros will vary).
---
Some of the links above are affiliate links, which may earn Macrostax a commission at no extra cost to you.