This is the yummiest sweet treat! Perfect to serve at a summer BBQ or just hide it in the back of the freezer and keep it all for yourself!
Servings: 1
Macros: 43g carbs / 7g protein / 6g fat / 257 calories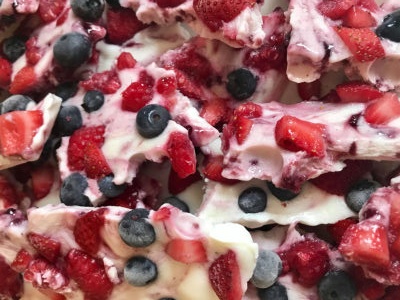 Ingredients:
170g of plain yogurt (vanilla is good too but check the macros and adjust as needed)
20g Mixed berry jam
55g Blueberries
70g Strawberries cut into 1 inch chunks
55g Raspberries rough chopped
2tsp Stevia
Instructions:
Mix fresh berries with 1tsp Stevia in a bowl
Line a large rimmed cookie sheet with parchment paper ( make sure the cookie sheet will fit in your freezer!)
Pour yogurt onto to cookie sheet and spread evenly with a rubber spatula
Dollop jam onto yogurt no less than .5 inch apart from each other
Use a toothpick, fork, or butter knife to swirl jam into yogurt
Sprinkle last tsp of Stevia over yogurt and jam mixture
Evenly top yogurt/jam with the fresh berries
Freeze for at least 2 hours
Once frozen break into pieces and enjoy!
Store extra berry bark in a freezer bag. We like to let it thaw in a bowl for several minutes and then devour with a spoon!