This dish is sure to satisfy with it's Spanish inspired herbs and spices. You can control the heat level by adding more or less of the chili powder. If you have extra macros available serve it with warm flour tortillas!
Servings: 1
Macros: 30g carbs / 27g protein / 17g fat / 381 calories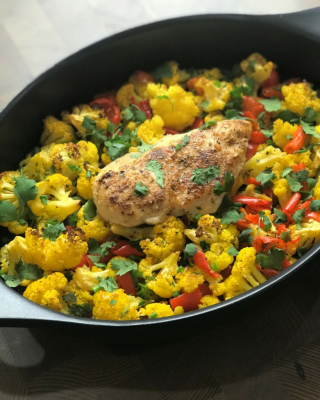 Ingredients:
14g Olive Oil (divided in two)
428g Yellow or White Cauliflower (broken down into bite-size florets)
148g Sweet Red Peppers (cut into one inch pieces)
78g Boneless Skinless Chicken Breast (trimmed and fat removed)
1 tablespoon Fresh Cilantro (rough chopped and stems removed)
Spice Mixture
Instructions:
Vegetable Prep
Place cauliflower and peppers in a large Ziploc bag.
Add half of the olive oil and 3/4 of the spice mixture and seal
Gently shake bag and massage to mix veggies with oil and spices until evenly coated
Set aside or place in fridge for up to 24 hours until ready to roast with chicken
Chicken Prep
Season both sides of chicken with remaining spice mixture
Heat a non-stick pan to medium-high
Add remaining olive oil and allow to also reach medium-high (adding the oil to an already warmed pan heats the oil more evenly and prevents scorching. You can tell your oil is ready when it begins to glisten.)
Place breast top side down into oil. Sear for 3 minutes until browned. Removed from heat.
Roasting
Pre-heat oven to 350 degrees
Place seasoned veggies in a roasting pan or shallow baking dish
Add chicken breast on top of veggies seared side up
Roast on center rack for 35 minutes or until chicken's internal temperature reaches 160 degrees
Garnish with fresh cilantro