This Pumpkin Protein Oatmeal is creamy, cozy, and everything you love about a pumpkin spice latte- minus the latte, plus 21 grams of protein to fuel your morning! The recipe can be easily customized to use whatever type of protein powder and oats you have on hand (see recipe notes below), and can be cooked in the microwave or on the stove.
Servings: 1
Prep Time: 10-20 minutes
Nutrition Facts: 46g carbs / 21g protein / 7g fat / 331 calories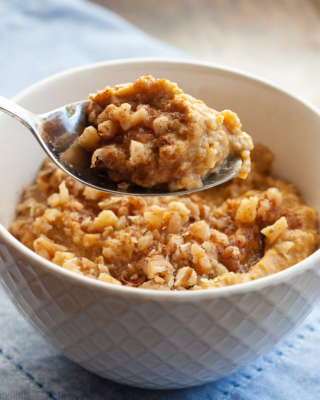 Ingredients
Oatmeal:
½ cup fat-free milk
¼ cup (40g) quick-cooking steel cut oats
4 tablespoons (47g) 100% pumpkin puree
¼ teaspoon cinnamon
Dash of salt
⅓ scoop (10g) protein powder, such as Ascent Native Fuel Whey protein powder in "vanilla bean"
Garnish:
1 tablespoon (6g) chopped walnuts, pecans, or almonds
1 teaspoon (7g) honey or maple syrup
Sprinkle of cinnamon
Instructions
Stovetop method
Bring the milk to a boil in a small saucepan over medium heat.
Stir in the oats, pumpkin puree, cinnamon, and salt.
Return to a boil, reduce heat to low, and simmer for about 15 minutes.
When oats are creamy and cooked through remove pan from heat and stir in the protein powder.
Top with chopped nuts, honey/maple syrup, and cinnamon.
Microwave method
Mix together the milk, oats, pumpkin puree, cinnamon, and salt in a large heatproof dish (be sure to leave extra room for the oats to expand while cooking, otherwise they will overflow).
Place the dish in the microwave and cook on high for 5 minutes.
Stir well, and return to microwave for another 3-4 minutes or until oats are cooked through and creamy.
Stir in the protein powder and top with chopped nuts, honey/maple syrup, and cinnamon.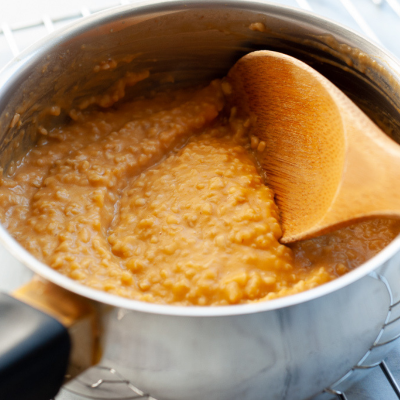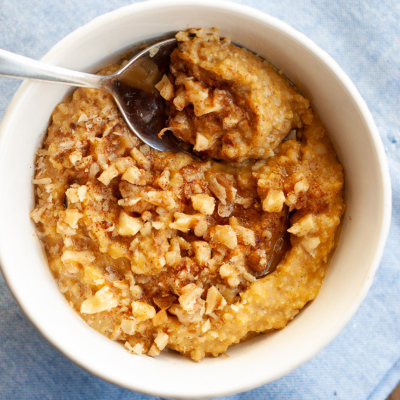 Notes
Any cooking liquid can be substituted for the non-fat milk. Water, almond milk, soymilk, coconut milk, or any combination would be delicious. If the oatmeal becomes too dry at any point during the cooking process add a splash of water to loosen.
You can substitute any type of oats for the quick-cooking steel cut oats. However, to maintain the same macros with old-fashioned or instant oats use ½ cup (40g) instead of ¼ cup, and cook with an extra ½ cup of water.
This oatmeal keeps well in the refrigerator for 2-3 days. Double or triple the recipe and reheat with an extra splash of water or milk for a make-ahead breakfast!
The macros will vary according to the protein powder you choose. It's always best to select a protein powder with minimal added ingredients. For reference, the protein powder used for these macro calculations is Ascent Native Fuel Whey protein powder in "vanilla bean" with 40 calories, 0.3g fat, 0.7g carb, and 8g protein per 10g.
To make gluten-free be sure to use certified gluten-free oats. Use a milk substitute for a dairy-free version.
---
Some of the links above are affiliate links, which may earn Macrostax a commission at no extra cost to you.