Slow Cooker Pot Roast
Pot roast is the ultimate winter comfort food. Flavored with hearty vegetables, garlic, thyme, and rosemary, it's hard to go wrong with this easy "forget about it all day" slow cooker meal. Serve with Mashed Root Vegetables (recipe below) or your favorite side – you'll want to soak up every bite of this delicious gravy! This recipe is easily doubled for a crowd, and leftovers are perfect for stocking your freezer.
Servings: 6
Serving Size: 4oz (115g) cooked beef + approx. ½ cup sauce + ¼ cup veggies
Prep Time: 20 minutes
Total Time: 6 hours
Nutrition Facts: 332 calories / 40g protein / 13g carbs / 12.5g fat (48.5% / 15.5% / 34 %)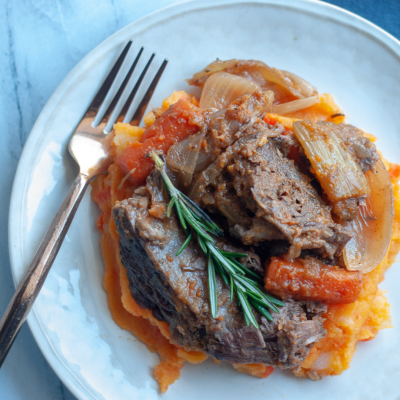 Ingredients
1 2.5 lb (1.1kg) beef chuck roast
1 teaspoon salt
½ teaspoon pepper
1 tablespoon canola oil
2 medium yellow onions (575g), peeled and quartered
4 whole carrots (435g), peeled and chopped into 1-inch pieces
4 stalks of celery (225g), chopped into 1-inch pieces (optional)
4 cloves garlic, peeled and roughly chopped
1 cup beef broth
2 tablespoons (30g) tomato paste
1 teaspoon dried rosemary
1 teaspoon dried thyme
Salt and pepper
Garnish: fresh rosemary (optional)
Special Equipment: 6-quart slow cooker (if unavailable, see notes below for alternative)
Instructions
Heat canola oil in a large Dutch oven or skillet over high heat. Season the chuck roast with salt and pepper on all sides.
Sear the roast until browned on all sides (avoid moving meat between turns for maximum browning). Remove meat from pan and place in the slow cooker.
Add the onions, carrots, celery, and garlic to the hot pan. Cook for 3-4 minutes over high heat, stirring once or twice, until some vegetables start to get a dark brown sear. Remove from pan and place on top of the meat.
In a measuring cup, mix the beef broth and tomato paste and pour into the pan to deglaze. Stir with a wooden spoon or spatula to scrape the browned bits off the bottom of the pan. Pour over the meat and vegetables in the slow cooker.
Sprinkle the dried rosemary and thyme over the pot roast.
Cook on low for 5-6 hours or until meat is tender and shreds easily with a fork.
If you prefer a thicker gravy, use a ladle to remove about 2 cups of drippings and vegetables from the slow cooker. Place in a blender or food processor and puree until smooth. Return to slow cooker and stir well.
Season with additional salt and pepper to taste. Serve sliced pot roast over Mashed Root Vegetables (link to recipe), rice, cauliflower rice, or mashed potatoes. Top with the pot roast vegetables and gravy.
Store leftovers in an air-tight container in the refrigerator for up to 4 days, or in the freezer for up to 3 months.
Notes
Instead of the dried herbs, you can also use fresh rosemary and thyme (about 2 sprigs each), or omit if unavailable.
Cooking time may depend on size and shape of chuck roast, so start checking the meat after 4 ½-5 hours of cooking.
If you don't have a slow cooker, place all ingredients into a large Dutch oven or oven-proof pot, cover tightly, and cook in the oven at 275F for 3-4 hours or until meat and vegetables are tender.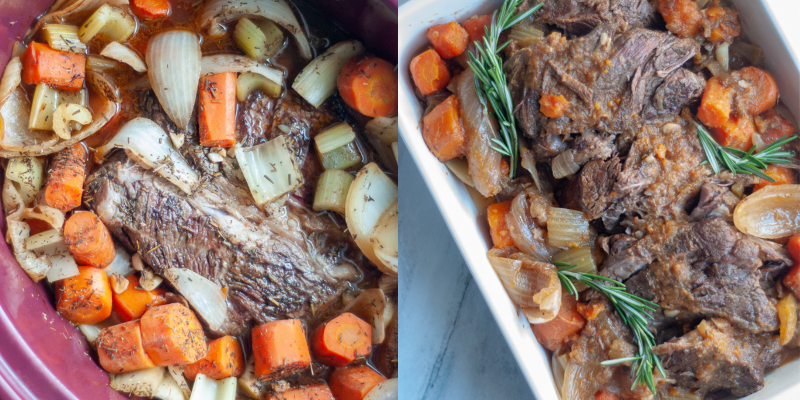 Mashed Root Vegetables
This light, simple side dish is the perfect accompaniment to Slow Cooker Pot Roast (link to recipe), meatloaf, or your favorite stew. It's a nutritious take on traditional mashed potatoes – all of the creaminess you love without the extra fat. Carrots, turnips, and sweet potatoes add tons of flavor along with plenty of fiber and Vitamin A.
Servings: 6
Serving Size: 1 cup
Prep Time: 20 minutes
Total Time: 45 minutes
Macros: 4g protein / 45g carbs / 0.5g fat / 195 calories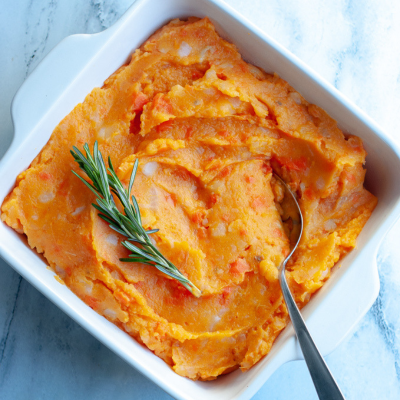 Ingredients
3 medium Yukon gold potatoes (580g), peeled and diced into 1-inch pieces
3 medium carrots (270g), peeled and diced into ½-inch pieces
3 medium turnips (345g), peeled and diced into ½-inch pieces
2 large sweet potatoes (650g), peeled and diced into 1-inch pieces
½ teaspoon onion powder
½ teaspoon garlic powder
½ teaspoon salt
Garnish: fresh rosemary (optional)
Instructions
Boil a large pot of water over high heat. Add potatoes, sweet potatoes, turnips, and carrots to the pot and simmer for 20-25 minutes or until vegetables are very tender (but not mushy).
Remove from heat and strain vegetables.
Mash well using a fork or potato masher. Stir in onion powder, garlic powder, and salt.
Store leftovers in an airtight container in the refrigerator for up to 4-6 days.
Notes
Turnips are white bulb-like root vegetables that can be found in the refrigerated section of most produce departments, near the carrots.
Yukon Gold potatoes are perfect for mashed potatoes thanks to their firm creaminess. However, if you can't find them, use any type of peeled white or sweet potato instead.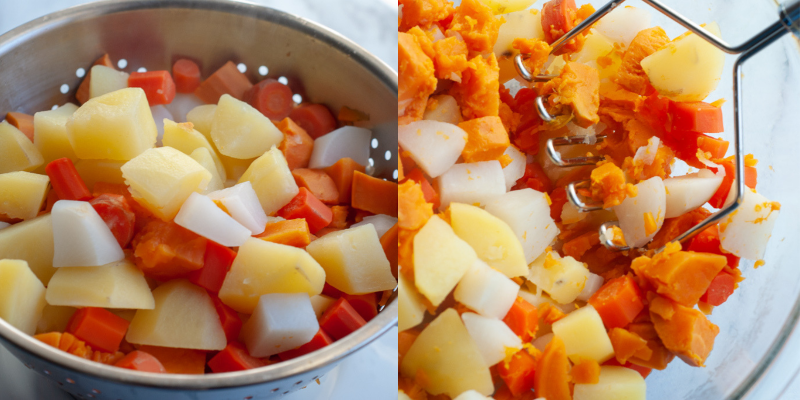 Combined Macros: 527 calories / 44g protein / 58g carbs / 13g fat (33.5% / 44% / 22.5%)
Combined Serving Size: 4oz (115g) pot roast + ½ cup sauce + ¼ pot roast veggies + 1 cup mashed root vegetables
---
Some of the links above are affiliate links, which may earn Macrostax a commission at no extra cost to you.