This fall-inspired salad is full of colorful veggies flavored with smoky bacon and sweet maple syrup. It's special enough to grace any holiday party table, yet easy enough to meal prep for the week with only 15 minutes of prep time! Add 4-6 ounces of lean protein and you'll have yourself a delicious sheet pan meal to help keep you on track during the holiday season.
Servings: 6
Serving Size: 1 cup spinach + 1 cup roasted veggies
Prep Time: 15 minutes
Total Time: 1 hour
Nutrition Facts: 45g carbs / 8g protein / 17g fat / 363 calories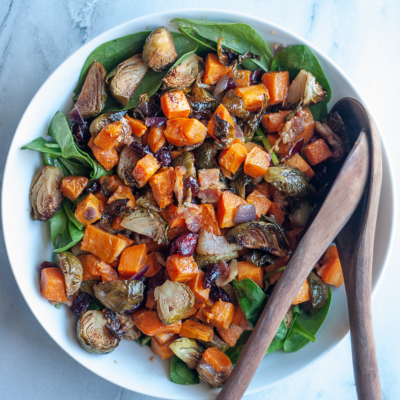 Ingredients
Roasted veggies:
2 large sweet potatoes (730g), peeled and diced into ½-inch squares
1 lb Brussels sprouts (454g), trimmed and cut into quarters
3 slices thick-cut bacon (130g), cut into ½-inch strips
¼ medium red onion (70g), diced
2 tablespoons olive oil
2 tablespoons maple syrup
1 teaspoon Dijon mustard
½ teaspoon salt
Salad toppings:
6 cups (120g) packed spinach leaves
⅓ cup (46g) dried cranberries
2 tablespoons olive oil
1 tablespoon maple syrup
1 tablespoon Dijon mustard
1 tablespoon balsamic vinegar
Salt and pepper to taste
Instructions
Preheat the oven to 400F. Prepare a baking sheet by spraying with nonstick cooking spray or lining with parchment paper or foil.
Evenly spread the sweet potatoes, Brussels sprouts, onion, and bacon onto the baking sheet.
In a small bowl combine the 2 tablespoons of olive oil, 2 tablespoons maple syrup, 1 teaspoon Dijon mustard, and salt and whisk with a fork.
Drizzle the maple Dijon sauce over the vegetable mixture and toss to combine.
Place the baking sheet in the oven and roast for about 45 minutes, stirring once halfway through. The bacon and vegetables are done when they're cooked through and golden brown.
In the meantime, prepare the salad dressing by whisking together another 2 tablespoons olive oil, 1 tablespoon maple syrup, 1 tablespoon Dijon mustard, 1 tablespoon balsamic vinegar, and a dash of salt and pepper.
Place the spinach leaves in a large bowl or on a serving platter. Top with the roasted vegetables and sprinkle with dried cranberries. Either pour over the salad dressing or keep separate to let each person dress their own salad portion.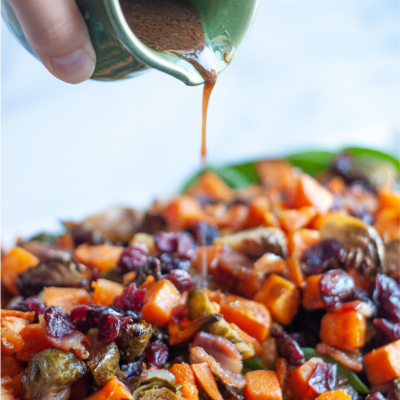 Notes
Substitute the spinach for any leafy green of your choice such as kale, spring mix, or arugula.
When dicing the veggies it's key to keep the sizes similar to those described in the recipe so everything cooks evenly in the oven. If your Brussels sprouts are different sizes, feel free to quarter some and halve others, just as long as the size of the diced pieces is consistent.
If you use this recipe for make-ahead meal prep it's best to store the greens and salad toppings in separate containers to prevent wilting. The separate components will stay fresh in the refrigerator for 4-6 days.