These simple, colorful bowls are bursting with sunny Mediterranean flavors: cumin-spiced chicken, fluffy quinoa, chickpeas, and good-for-you veggies are topped with a tangy dressing of your choice. They also happen to boast everything we love about make-ahead meals. Whether it's meal prep or a last minute lunch or dinner, this healthy and satisfying recipe has you covered!
Servings: 4
Serving Size: 1 bowl: 3 cooked chicken tenders (about 5.5oz) + ¾ cup cooked quinoa + ⅓ cup chickpeas + ½ cup greens + ¼ cup tomatoes + ¼ cup cucumbers + 1 tablespoon onion + 1 ½ tablespoons dressing
Total Time: 30 minutes
Nutrition Facts: 52g protein / 45g carbs / 10g fat / 478 calories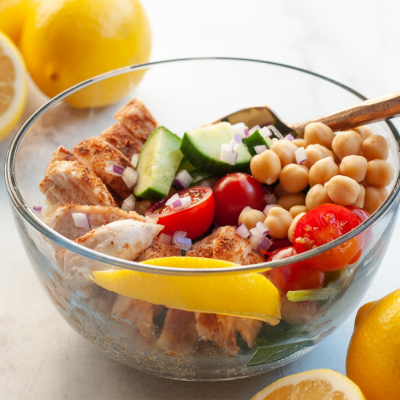 Ingredients
Chicken
1 ½ lb (680g) chicken tenders
1 tablespoon cumin
½ teaspoon paprika
½ teaspoon salt
Fresh ground pepper
Quinoa
2 cups chicken broth
1 cup (182g) quinoa
Toppings
1 ⅓ cups (157g) chickpeas, strained and rinsed
2 cups (40g) greens (kale, spinach, arugula, or spring mix)
1 cup (150g) diced tomatoes
1 cup (120g) sliced cucumber
4 tablespoons (28g) finely chopped red onion
Optional garnish:
Lemon Dijon Dressing (recipe below), fat-free vinaigrette (such as Skinny Girl or Maple Grove Farms brands), or lemon juice
Instructions
Preheat the oven to 350F and line a baking sheet with foil.
In a small bowl, combine the cumin, paprika, salt and pepper. Lay the chicken tenders on the baking sheet and sprinkle with the spice mixture evenly on both sides. Bake for 15 minutes or until just cooked through. Slice if desired.
While the chicken is cooking, boil the quinoa: in a medium saucepan bring the chicken broth to a boil, add the quinoa, and cover the pan and turn heat down to low. Simmer for 15-20 minutes or until quinoa is cooked through and liquid is absorbed. Fluff with a fork before serving.
Assemble the bowls by arranging ¼ of the cooked chicken tenders (about 3 tenders or 5.5oz), ¾ cup cooked quinoa, ⅓ cup chickpeas, ½ cup greens, ¼ cup tomatoes, ¼ cup cucumbers, and 1 tablespoon onion in each of 4 bowls. Drizzle with salad dressing (if using).
Store leftovers in an air-tight container in the refrigerator for 3-4 days.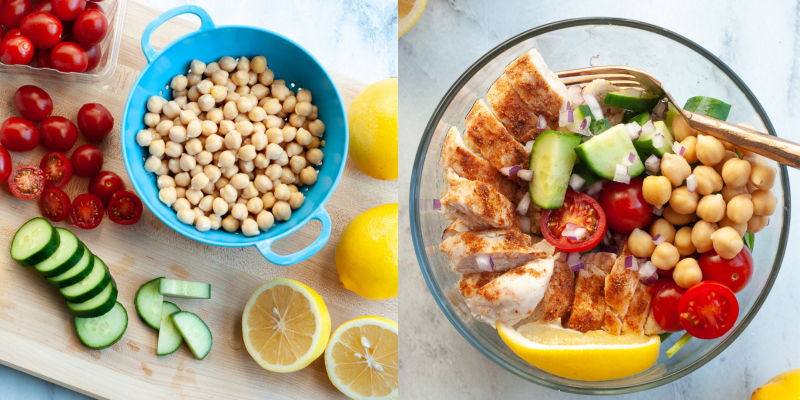 Notes
This recipe can be easily doubled or tripled for weekly meal prep.
If you top your bowls with fat-free vinaigrette or lemon juice, the macros would be as-written. If you whip up a batch of Lemon Dijon Dressing, 1 ½ tablespoons would add an additional 90 calories and 10 grams of fat to the total for your meal. See the recipe below for full details.
To substitute chicken breasts for chicken tenders: slice the breasts into 3 even strips lengthwise and season as directed. Adjust the baking time as needed depending on the size of the chicken pieces (up to 20 minutes) or until chicken is cooked through.
Feel free to customize your bowl with other non-starchy vegetables such as bell peppers, carrots, sliced radishes, zucchini, mushrooms, or leftover steamed green beans, broccoli or cauliflower.
If your quinoa has not been pre-rinsed, rinse the dried quinoa in a mesh strainer under cold running water for at least 2 minutes before cooking. This prevents bitterness from "saponins" found on the outer coating of quinoa seeds.
Lemon Dijon Dressing
This salad dressing is bright and citrusy, bursting with tangy flavor from Dijon mustard and fresh lemon juice. It's the perfect complement to any salad. Or, try it as a chicken or seafood marinade.
Servings: 4
Serving Size: 1 ½ tablespoons
Total Time: 5 minutes
Macros: 90 calories / 0g protein / 0g carbs / 10g fat
Ingredients
3 tablespoons olive oil
2 tablespoons fresh lemon juice
1 teaspoon Dijon mustard
½ teaspoon dried oregano
Salt and pepper
Instructions
In a small bowl, whisk all ingredients until well combined.
Store in an air-tight container in the refrigerator for up to 2 weeks.