This Double Chocolate Nice Cream is the perfect creamy, indulgent dessert that will satisfy even the sweetest sweet tooth! Made with only four ingredients, no churning, and minimal prep time, this low-fat copycat ice cream is guaranteed to become your go-to healthy treat. Sharing optional!
Servings: 4
Serving Size: ¾ cup
Prep Time: 10 minutes
Total Time: 6 hours (including freezing time)
Nutrition Facts: 37g carbs / 2.75g protein / 4g fat / 178 calories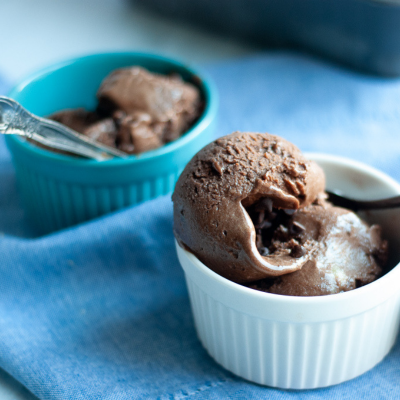 Ingredients
4 medium (472g) ripe bananas, sliced and frozen
4 tablespoons (20g) unsweetened cocoa powder
Pinch of salt
¼ cup (56g) mini semi-sweet chocolate chips
Special Equipment:
Instructions
Blend the frozen bananas on high speed until smooth and creamy. This may take up to 5 minutes (see recipe notes for troubleshooting tips).
Add the cocoa powder and salt and blend until combined.
Scrape the nice cream mixture into a freezer-safe dish. Fold in the chocolate chips (or any other desired mix-ins).
At this point the nice cream will have a soft serve consistency. If you prefer a more frozen texture, freeze for at least 4-6 hours or overnight before serving.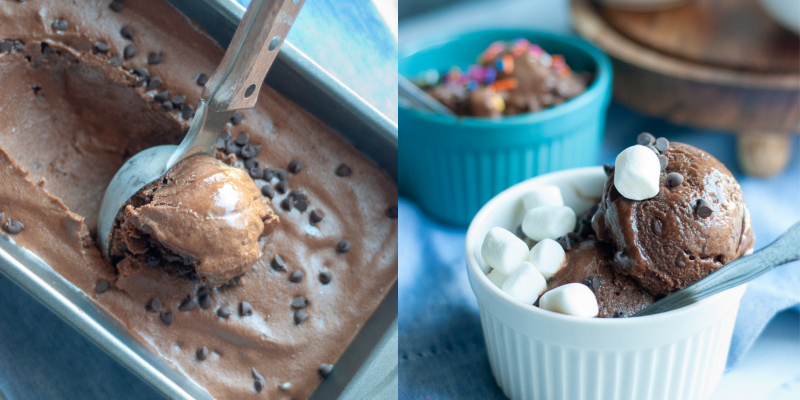 Notes
Make this recipe dairy-free and vegan by using dairy-free chocolate chips or omitting them altogether.
Other flavor ideas: 1-2 tablespoons maple syrup, 1 teaspoon vanilla extract, or 1 tablespoon instant coffee dissolved in 1 tablespoon of water. Add these flavorings to the frozen bananas as you're blending.
Other mix-in ideas: mini marshmallows, nut butter swirls, sprinkles, chopped nuts, or chopped dark chocolate. Mix into the nice cream just before freezing.
To make dark chocolate nice cream add 1 extra tablespoon of cocoa powder.
For best results use a very high-powered blender (such as a Vitamix) or a food processor. If it takes longer than 5-7 minutes for your bananas to blend into a smooth puree, try adding 1-2 tablespoons of milk or milk substitute. Stirring the bananas occasionally with a spatula may also help.
---
Some of the links above are affiliate links, which may earn Macrostax a commission at no extra cost to you.