This Cranberry Vanilla Granola Blend is the perfect crunchy, low-fat, low-sugar topping for your yogurt or smoothie bowl! We're mixing super simple homemade granola with a high-fiber cereal. Healthier and cheaper than store-bought granola PLUS flavored with honey, vanilla, cinnamon, and cranberries? Sign me up!
Servings: 15
Serving Size: ½ cup
Prep Time: 10 minutes
Total Time: 35 minutes
Nutrition Facts: 157 calories / 25g carbs / 4.7g protein / 5.7g fat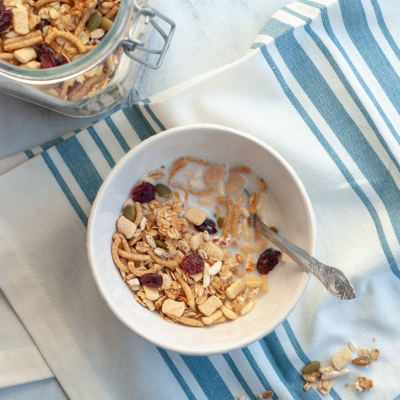 Ingredients
3 cups (240g) old-fashioned oats – Oats, old fashioned
⅓ cup (44g) pumpkin seeds- pumpkin seeds
½ teaspoon cinnamon- cinnamon
3 tablespoons (42g) canola or melted coconut oil- canola oil
¼ cup (84g) honey or maple syrup- honey
2 teaspoons (8g) vanilla- vanilla
⅓ cup (40g) dried cranberries- dried cranberries
3 cups (139g) Kashi GoLean cereal- Kashi golean
Instructions
Preheat the oven to 325F. Line a baking sheet with parchment paper or a silicone baking mat.
Mix the oats, pumpkin seeds, and cinnamon together in a large mixing bowl.
In a small bowl, whisk together the oil, honey, and vanilla and pour over the oat mixture. Stir well to combine, until all the oats are evenly coated.
Spread the granola in a thin even layer on the baking sheet. Bake for 15-20 minutes or until the top layer of oats is lightly browned. Stir, and bake for another 3-5 minutes until the granola is uniformly golden brown.
Remove the granola from the oven, stir in the dried cranberries, and let cool completely.
Mix together the cereal and cooled granola. Serve with milk, yogurt, or sprinkle on oatmeal or overnight oats for extra crunch.
Store in an airtight container for up to 1 month.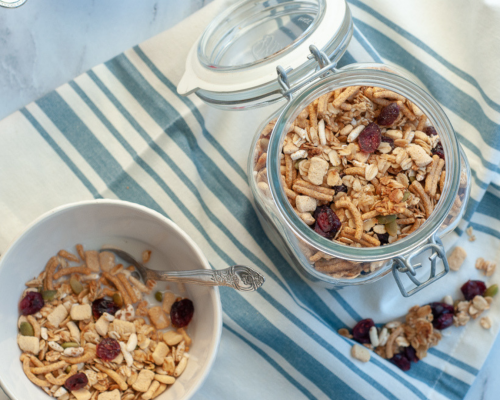 Notes
Feel free to substitute any of your favorite nuts or seeds for the pumpkin seeds. Pecans, almonds, walnuts, or sunflower seeds would all work well.
Use any cereal in place of the Kashi GoLean Original. Any high-fiber, low-sugar cereal (such as Mini Wheats, Bran Flakes, or Grape-Nuts) would be a great swap.