Can pizza transport you to a tropical Hawaiian island in the middle of winter? We think so! Our Hawaiian Pizza has all of the sweet pineapple and salty Canadian bacon flavor you know and love. And thanks to an easy cauliflower crust, it's light on the macros and takes less than 30 minutes from start to finish! This is family friendly at its finest.
Makes: 2 pizzas (12 slices)
Serving Size: 3 slices (½ pizza)
Prep Time: 5 minutes
Total Time: 25 minutes
Nutrition Facts:   512 calories / 51g carbs / 30g protein / 20g fat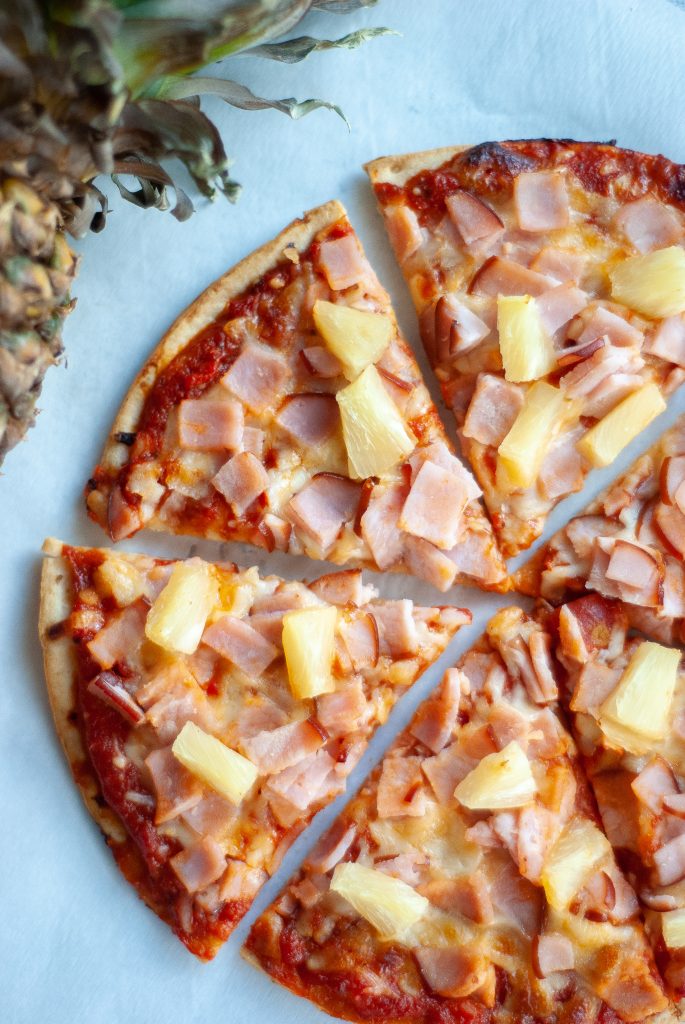 Ingredients:
2 "Caulipower" original pizza crusts (345g)
1 cup (250g) "Bertolli" traditional marinara sauce
1 ½ cups (136g) shredded part-skim mozzarella cheese
12 oz (340g) "Hormel" Canadian bacon (diced)
3 slices (171g) canned pineapple (diced)
Instructions:
Preheat oven to 425 degrees. Line a large baking sheet with foil or parchment paper, or use a pizza stone.
Place pizza crusts (still frozen) on the prepared sheet or pizza stone. Spread ½ cup of marinara on each crust, leaving a ½-inch border around the edges.
Sprinkle each with mozzarella. Top with the Canadian bacon and diced pineapple.
Bake for 17-20 minutes or until the cheese is melted and lightly browned. Slice each pizza into 6 slices.
---
Some of the links above are affiliate links, which may earn Macrostax a commission at no extra cost to you.