This copycat meal is JUST as delicious as restaurant versions except it's a) vegan, b) lower in fat, and c) easier on the wallet! Wins all around if you ask us. Tofu, mushrooms, and water chestnuts make up the base of this delicious filling that's flavored with a tangy homemade Chinese stir fry sauce.
Servings: 4
Serving Size: 2 lettuce wraps (2 lettuce leaves + 1 ¼ cup filling)
Prep Time: 5 minutes
Total Time: 20 minutes
Nutrition Facts: 304 calories / 27g carbs / 21.5g protein / 12g fat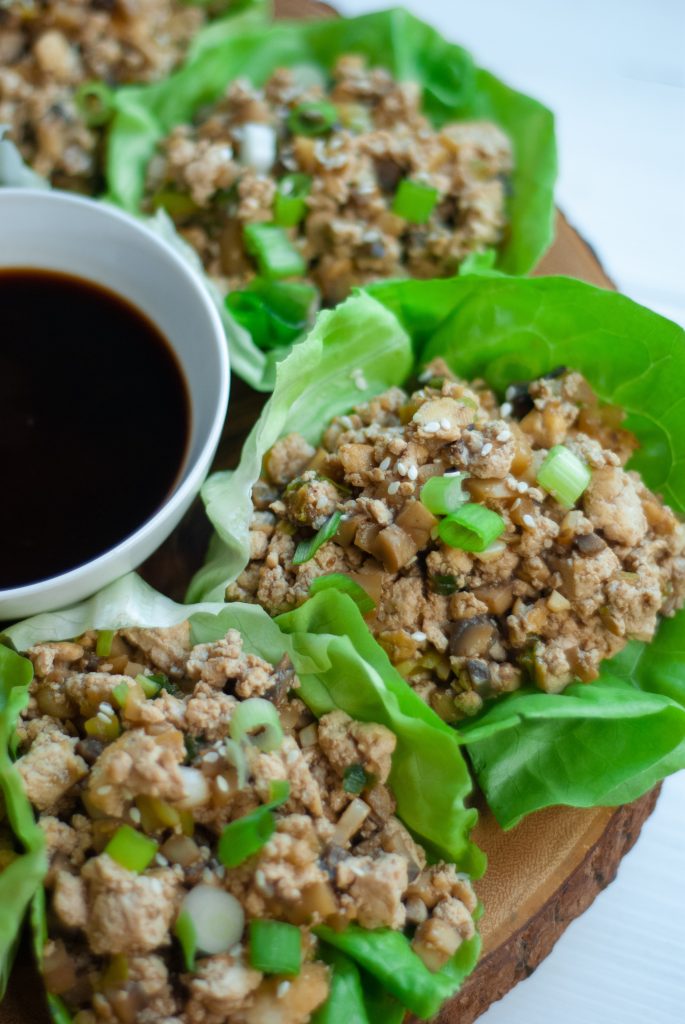 Ingredients:
1 tablespoon canola oil
1 ½ blocks (683g) extra firm tofu
8 oz mushrooms (finely diced)
3 garlic cloves (minced)
1 teaspoon ground ginger
6 tablespoons soy sauce
5 tablespoons hoisin sauce
1 tablespoon rice wine vinegar
1 8-oz can water chestnuts (drained and chopped)
4 green onions (chopped)
8 large Romaine or butter lettuce leaves
Dipping sauce:
2 tablespoons hoisin sauce
2 tablespoons soy sauce
Instructions:
Use several paper towels to squeeze as much water as possible from the tofu blocks. Our favorite method is to wrap the tofu in 2 layers of paper towels and top with a heavy item (such as a pot), and let drain while you prepare the mushrooms and sauce.
Heat the canola oil in a large skillet over medium-high heat. Crumble the tofu into the skillet and then saute, stirring frequently, for 2-3 minutes.
Add the mushrooms to the pan and continue to cook for another 3-5 minutes, until the moisture has evaporated from the mushrooms and the tofu begins to lightly brown.
Meanwhile, whisk together the garlic, ginger, soy sauce, hoisin, and rice wine vinegar. Add to the pan along with the water chestnuts and green onions.
Cook the tofu mixture for another 2-3 minutes until heated through and fragrant.
Spoon a rounded ½ cup of tofu filling into each lettuce leaf to make a total of 8 large lettuce wraps. Garnish with additional green onions and sesame seeds if desired.
Prepare the dipping sauce by whisking together the remaining hoisin and soy sauce. Either dip the wraps in the sauce or drizzle evenly over the wraps.
Notes:
Depending on the size of your lettuce leaves you may have difficulty fitting a generous ½ cup of filling in each leaf. Feel free to use extra lettuce leaves to make additional wraps, or enjoy extra filling on the side. A single serving as calculated above includes 1 ¼ cup filling. The lettuce leaves are virtually macro free.
This meal can be made gluten-free by using Tamari instead of soy sauce and selecting a wheat-free hoisin sauce.