With the seasons changing, so do our cravings! Our Paleo Chicken Vegetable Soup is the perfect meal for the colder weather knocking at your door. This soup is jam-packed with all the nutrients you need and more to feel nourished and ready for the day.
Servings: 5
Serving Size: 2 cups (510g)
Prep Time: 25 minutes
Total Time: 60 minutes
Nutrition Facts:  319 calories / 11.5g carbs / 37g protein / 14.5g fat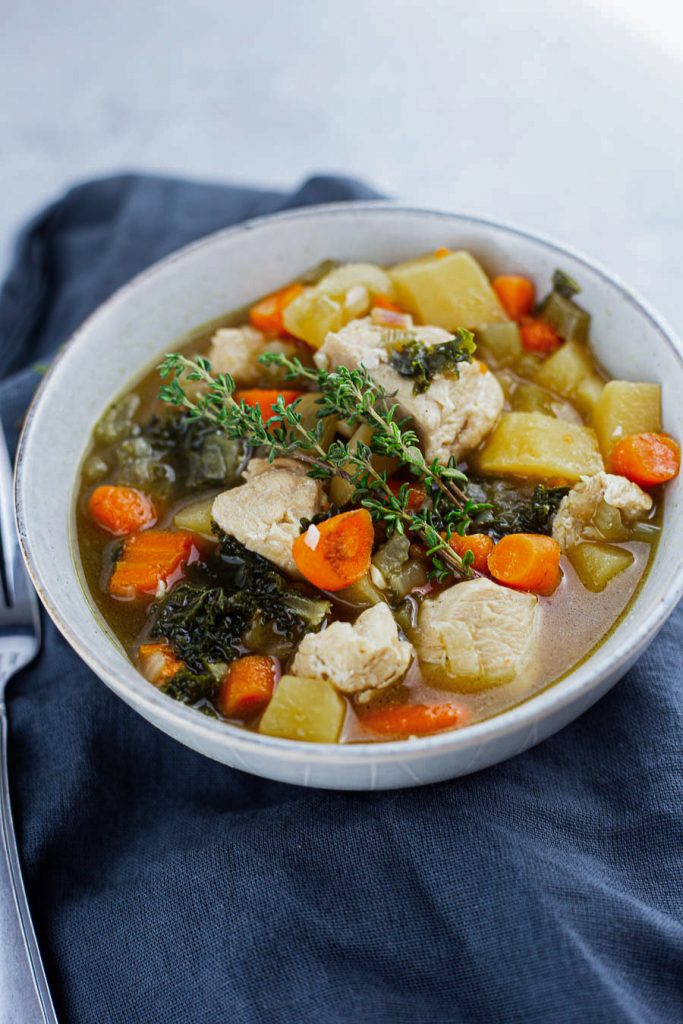 Ingredients:
¼ cup (54g) olive oil (divided)
1 pound (454g) boneless, skinless chicken breast (cut into bite-sized pieces)
4 cloves (12g) garlic (minced)
1 large (128g) yellow onion (diced)
1 cup (128g) carrots (diced)
4 cups kale (de-stemmed and chopped)
1 ½ teaspoons sage
1 teaspoon salt
1 teaspoon paprika
1 teaspoon thyme
½ teaspoon ground black pepper
8 cups (1960g) chicken bone broth
1 cup (150g) diced celery
1 cup (140g) rutabaga (peeled and chopped)
Instructions:
Bring a large soup pot to high-heat. Add half the olive oil to the pot until it begins to simmer.
Add chicken to the pot until it's browned at the bottom (about 3-4 minutes).
Stir once or twice until the chicken is cooked (another 3-5 minutes). Test the chicken to make sure it's cooked. Remove chicken and juices from the pot and set aside.
Bring the pot to medium heat and add the remaining olive oil.
Add garlic, onion, carrots, kale and salt and cook, stirring often until the vegetables are softened and starting to brown, 8 to 10 minutes.
Add paprika, sage, thyme, salt, and pepper and continue cooking.
Add broth, cooked chicken, celery, and rutabaga. Cover and bring to a gentle boil over high heat.
Reduce heat to maintain a simmer and until the vegetables are tender (about 15 minutes).
Notes:
Make sure you don't let the chicken dry out! The key to using chicken breast in a soup recipe is to only cook it until it is done. If you simmer it for too long, it will come out tough and dry. The initial searing of the chicken in the first step is important and then be sure to remove it once cooked.
You can find rutabaga in the refrigerated produce department of most grocery stores. It is a round root vegetable, often displayed near the turnips and carrots.
You can save this soup for later easily! Transfer it to containers and let it cool, then cover it and freeze it for up to 3 months.
---
Some of the links above are affiliate links, which may earn Macrostax a commission at no extra cost to you.