You'll never reach for store-bought hot chocolate again! Our Healthy Homemade Hot Chocolate is SO easy it's hard to believe. Four ingredients + less than 5 minutes = 1 deliciously creamy cup of hot chocolate that won't blow your macros. Check out the recipe notes for instructions for how to gift your friends and family with their own mix!
Servings: 1
Prep Time: 5 minutes
Nutrition Facts:  149 calories / 25.5g carbs / 10g protein / 1g fat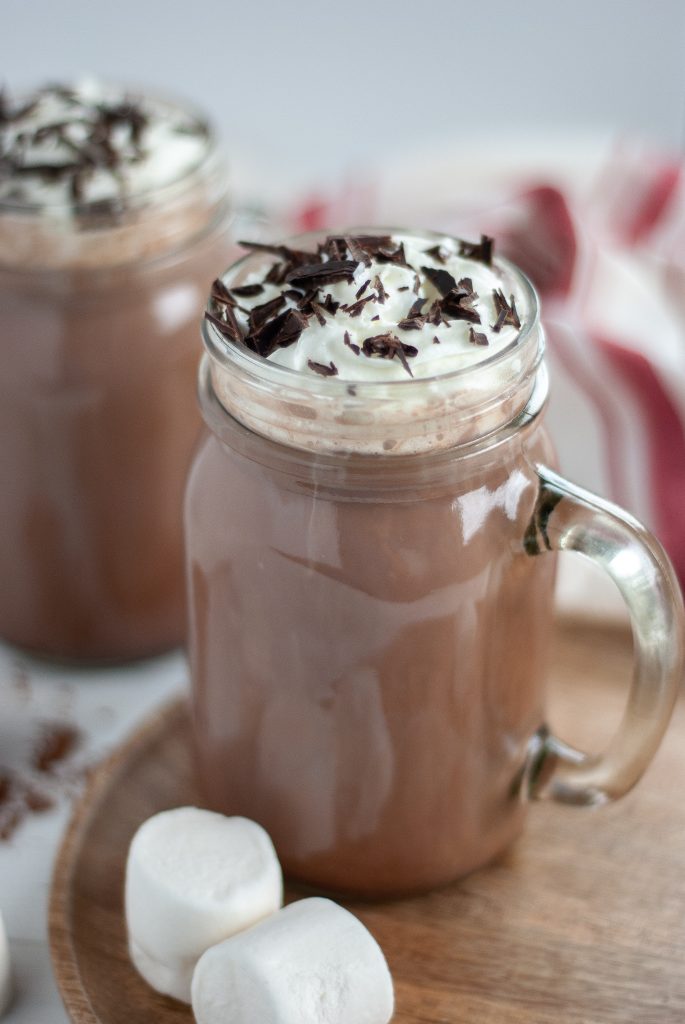 Ingredients:
1 cup fat free milk
1 ½ tablespoons (8g) cocoa powder
2 teaspoons (9g) packed brown sugar
Pinch salt
Instructions:
Heat the milk in a microwave-safe mug for about 60 seconds on high.
Stir in the cocoa powder, sugar, and salt and mix very well with a whisk or fork. Heat for a further 30 seconds if needed.
Garnish with marshmallows, cinnamon, shaved chocolate, or whipped cream if desired (macros not included.)
Notes:
The cocoa powder will need to be mixed well with the milk, and you may notice slight clumping. That is because homemade hot chocolate doesn't contain emulsifiers or stabilizers.
Homemade hot chocolate mix makes a great gift! To make a bulk batch of mix multiply this recipe by 10. Mix together 15 tablespoons (roughly 1 cup) of cocoa powder, 7 tablespoons of packed brown sugar, and ¼ teaspoon salt and store in an airtight container for up to 2 months. When ready to enjoy, mix 2 ¼ tablespoons mix with 1 cup of hot milk/milk substitute.
Make a vegan version with unsweetened almond milk (either plain or vanilla flavored): 14.5C/2.5P/3.5F.
High protein version: use "Fairlife" fat free ultra-filtered milk. Macros: 19.5C/14.5P/0.5F.
Make with water instead of milk or milk substitute: 13.5C/1.5P/0F.