Get your morning off to a deliciously easy start with a bowl of these High Protein Overnight Oats! They're creamy, full of protein and fiber, and are the perfect opportunity to enjoy all of your favorite toppings. Use any flavor of Optimum Nutrition Gold Standard whey protein powder – the possibilities are endless!
Servings: 1
Prep Time: 5 minutes
Total Time: 6 hours
Nutrition Facts: 309 calories / 40.5g carbs / 25.5g protein / 6g fat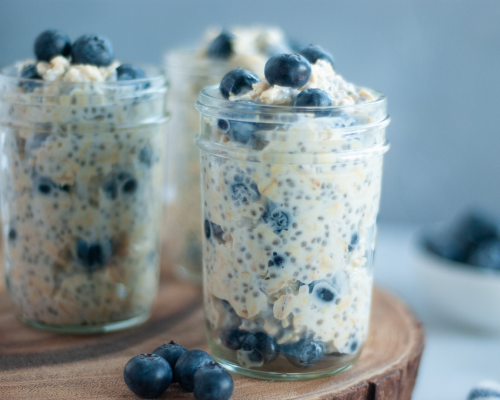 Ingredients:
Base recipe:
½ cup (40g) old fashioned oats
½ scoop (16g) Optimum Nutrition Gold Standard vanilla whey protein powder
⅓ cup (82g) nonfat milk
¼ cup (57g) nonfat vanilla Greek yogurt
2 teaspoons (8g) chia seeds
Sprinkle of ground cinnamon
Pinch of salt
Instructions:
Mix all ingredients together in a jar or air-tight container. Place in the refrigerator for at least 6 hours.
Enjoy cold with the toppings of your choice! Loosen with an extra splash of milk if it's too thick. Note that macros for additional toppings are not included. See below for a few of our favorite flavor variations!
Flavor variations: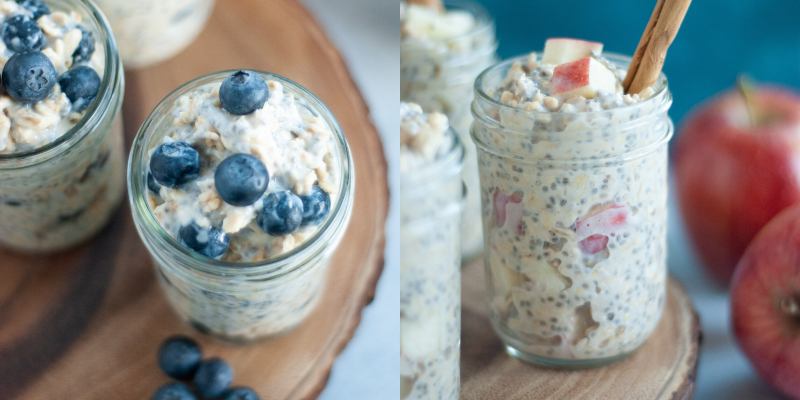 Notes:
You can prepare this recipe up to 2-3 days in advance.
If you decide to use our favorite Optimum Nutrition protein powder you can use code "MACROSTAX" for 20% off your purchase!
---
Some of the links above are affiliate links, which may earn Macrostax a commission at no extra cost to you.