This is an easy weeknight meal that the whole family will love! It has Mediterranean flavors and a rich and creamy sauce, even though there's no actual cream in the recipe.
Servings: 6
Serving Size: 1, 4-ounce piece chicken (85g) + ½ cup sauce (190g total with chicken and sauce)
Prep Time: 10 minutes
Total Time: 25 minutes
Nutrition Facts: 327 calories / 13.5g carbs / 36.5g protein / 11.5g fat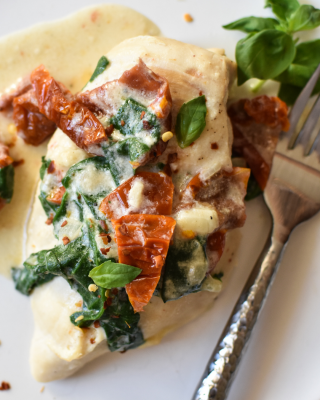 Ingredients:
1.5 pounds (681g) boneless skinless chicken breast (pounded to ½-inch thickness)
1 tablespoon olive oil
1 (33g) shallot (minced)
2 cloves garlic (minced)
2 tablespoons (18g) flour
1 cup (220g) vegetable broth
1 cup (244) whole milk
2-ounces (56g) cream cheese
¼ cup (25g) shredded Parmesan cheese
1 teaspoon salt
¼ teaspoon ground black pepper
2 cups (60g) fresh baby spinach
⅓ cup (64g) sun dried tomatoes (coarsely chopped)
Optional garnishes: basil, red pepper flakes
Instructions:
Prepare chicken by pounding to an even thickness of ½-inch. Divide chicken into 6, 4-ounce portions and set aside.
Press the "sauté" button on the Instant Pot and add the olive oil.
Add the shallots and garlic and cook until softened (about 1-2 minutes). Watch carefully to prevent burning.
Add flour and stir until it completely coats everything. Gradually add in the broth followed by the milk, whisking constantly. Add the Parmesan cheese, cream cheese, salt, and pepper, then continue to whisk until melted and it becomes a thickened cream sauce.
Place chicken in the Instant Pot (nestle into the sauce). Lock the lid in place, turn the steam valve to the closed position. Press the manual button and set the timer to 8 minutes. Use the quick release to let the steam out.
Stir in the spinach and sun-dried tomatoes and serve immediately. Pair Tuscan chicken with your favorite pasta, zucchini noodles, or risotto (macros not included).
Notes:
Be sure your chicken is cooked completely. An instant read thermometer should reach 165 degrees F. If not cooked through, just place the lid back on and add two more minutes of cook time.
Try to find sun dried tomatoes available in the pouch that are not packed in oil. If your tomatoes are stored in oil, drain and rinse prior to chopping.